Key Points
Cellulitis is a bacterial infection that affects the deep layers of the skin.
It typically causes redness, swelling, and tenderness in the affected area.
Good personal hygiene, proper skin care, and staying injury-free are the three basic steps to avoiding cellulitis.
If you have an open wound, keep it clean and properly dressed and monitor it closely for any signs of infection.
In some cases, untreated cellulitis can lead to shock or can spread to the blood and cause fatal sepsis.
The skin is the largest organ of the body. It serves as the first line of defense against external irritants, germs, and other carriers of the disease.
The skin has three layers:
The epidermis is the topmost layer of the skin, which acts as a protective, waterproof barrier encompassing the entire body.
The dermis is the second layer, which lies beneath the epidermis and contains hair follicles, sweat glands, nerve endings, lymph vessels, and tough connective tissue.
The hypodermis, or subcutis, is the deepest layer of subcutaneous tissue made up of fat and connective tissue, which acts as a cushion around your internal organs to protect them from shock or trauma and insulates your body.
When you wound or injure your skin, its barrier function becomes compromised. This is particularly true in the case of open injuries such as a cut, scrape, burn, sore, puncture, insect bite, or surgical incision, wherein the protective layer of the skin breaks open.
Open skin allows entry of bacteria and other germs, paving the way for infection. It is for this reason that the first thing you do after getting a skin injury is to clean the affected area with an antiseptic. You must regularly disinfect the site thereafter until the wound heals completely.
In the absence of proper wound care, bacteria can multiply at the site of injury and gradually spread to the deeper layers of the skin.
When the superficial bacterial infection makes its way to the lower epidermis/dermis and subcutaneous tissue, cellulitis occurs.
If the infection is not treated timely, it can advance to the deeper tissues and eventually into the bloodstream (sepsis), which can prove fatal.
How prevalent is cellulitis?
Cellulitis most commonly affects middle-aged men and older adults. In 2006, nearly 2,500 cases per 100,000 patients were diagnosed with cellulitis in the United States. (1)
Cellulitis can give rise to life-threatening consequences such as sepsis if not handled properly and promptly. A considerable mortality rate is attributed to cellulitis, which underlines just how dangerous it can be.
A recent systematic review suggested that 0.7%-1.8% of all cases of cellulitis in the world result in death. (2)
Moreover, cellulitis is reported to be one of the top causes of visits to the emergency room. More than 200 people per 100,000 seek emergency help at the hospital for cellulitis every year. (3)
Where does cellulitis occur?
Cellulitis is an acute, painful, and deep-seated skin infection that can occur anywhere on the body, but it commonly affects the exposed areas of the skin such as the face, neck, and limbs.
Adults mostly get it on their leg or foot, while children develop it on their face or neck.
Inserting an infected syringe into your skin can lead to the development of cellulitis, which is why it is very common in intravenous drug users.
What are the types of cellulitis?
Cellulitis is classified into different types depending on the site of infection. Some of the common ones are:
Periorbital cellulitis: This occurs when the bacteria infects the soft tissues of the eye socket located behind the orbital septum.
Facial cellulitis: Refers to an infection of the facial tissues and usually affects the cheeks but can also spread to the adjoining areas behind or around the eyes, on the neck, or behind the ears.
Breast cellulitis: Occurs when sweat and bacteria accumulate below the lower half of the breast, resulting in an infection.
Perianal cellulitis: Is an infection or inflammation of the area around the anal orifice.
Preseptal cellulitis: Refers to the infection that affects the eyelid skin but does not extend beyond the orbital septum into the orbit.
What causes cellulitis?
Cellulitis is a painful, deep-seated bacterial infection of the skin that can lead to potentially dangerous complications if not treated properly.  
The skin is naturally populated by multiple strains of bacteria that do not cause any harm so long as they are outside the body. However, any puncture or break in the skin barrier allows these pathogens to infiltrate the body and cause severe infection. 
Staphylococcus and streptococcus bacteria are the most common culprits behind cellulitis. These bacteria reside on the skin as well as in the mucous membranes lining the mouth and nose of healthy individuals. They derive their sustenance from dead epithelial cells.
The majority of cellulitis cases are caused by the following strains of bacteria:  
Group A beta-hemolytic streptococcus
Streptococcus pneumoniae
Staphylococcus aureus
The following injuries or conditions can compromise the structural integrity of the skin and invite cellulitis:  
Skin trauma in the form of an insect bite, burn, sore, abrasion, or cut
Insertion of a foreign object into the skin, such as a metal, glass, or infected syringe
A puncture in the skin due to a surgical wound
In some cases, cellulitis can be an extension of some other infection. For instance, orbital cellulitis, which affects the eyelids and tissues surrounding the eye, can stem from a preexisting case of sinusitis.
People with lymphedema are particularly susceptible to cellulitis because the lymphatic system is damaged or overloaded and does not function adequately to fight infection.
However, it can often be difficult or even impossible to identify the root cause of an infection.
Also Read:
What are the symptoms of cellulitis?
Cellulitis is often accompanied by the following symptoms:
A painful rash with red, tender skin that may blister and scab over time
Fever and chills
Swelling in the glands or lymph nodes
Bulging eyes due to the underlying inflammation
Blurry or double vision
Feeling exhausted despite no physical or mental exertion
A general feeling of malaise or being unwell
Nausea and vomiting
Tight, glossy, stretched appearance of the infected skin
Warm skin in the area of redness
Blisters at the infection site
What is the treatment for cellulitis?
Your doctor will prescribe antibiotics to control the growth and spread of the infection. The choice of drug will depend upon the type of bacteria responsible for the infection.
The majority of cellulitis cases are caused by a staph or strep bacteria and can be treated with the proper dosage of antibiotics, including beta-lactam antibiotics that fight against penicillinase-producing S. aureus, cefazolin, ceftriaxone, vancomycin, linezolid, and doxycycline.
Additionally, the following home treatments are important:
Rest: Give your body plenty of rest to help it recuperate faster. The energy you save while resting will be utilized for fighting the infection. 
Elevating and compressing the affected part: Keeping the affected area in a raised position may help curb swelling. You can register some relief by applying a warm compress on the infection site.

According to a 2019 study, compression therapy may help in the management of recurrent lower limb cellulitis by delaying its progression, reducing the intensity of its symptoms, minimizing the spread of infection, decreasing the rate of associated hospitalizations, and improving the patient's overall quality of life. (4)
Wound care: You have to monitor the condition of your wound every day to see if it is healing properly. The wound should be cleaned regularly and covered with a fresh dressing.
Diagnosing Cellulitis
Cellulitis can develop due to a variety of minor and major skin injuries, and the exact source of the problem can be hard to identify.
The first step toward diagnosing the root cause of infection involves recording the patient's medical history. The doctor will inquire about:
The health conditions that run in your family
All your preexisting and past illnesses
Medications that you are currently on
Your doctor will also ask about your symptoms to get a clear understanding of your condition. This will be followed by a physical exam to check for:
Redness, warmth, tenderness, and swelling of the affected skin
Signs of pus buildup or drainage at the site of infection
Swollen lymph nodes near the affected area
The doctor may outline the area of skin redness with a pen to see if it extends beyond the initial site of infection over the next couple of days. This will help the doctor track the progress of the infection and check if it is responding to the treatment.
If the redness continues to spread despite the preliminary antibiotic course, the doctor will recommend a higher dosage or a different treatment plan. 
If the injury involves the penetration of a foreign object into your skin or bone underneath it, the doctor will most likely order an X-ray of the affected site for an in-depth analysis.  
The doctor may also prescribe a few laboratory tests to identify the infection-causing bacteria responsible for the cellulitis, although the results rarely provide any clear answers.
The routinely conducted lab tests for cellulitis include:
Skin swab test
Blood culture
Complete blood count (CBC)
Culture of any fluid or material inside the affected area
Biopsy to rule out other conditions that may be causing your symptoms
What lifestyle changes help prevent cellulitis?
These measures help prevent cellulitis:
1. Keep it clean
Open wounds should be cleaned every day to avoid infection. You can simply wash the affected site with soap and water and gently swab it with an antiseptic.
2. Avoid scratching
Getting stung or bitten by an insect often triggers a lot of itching at the affected site. It can be very difficult to resist the urge to scratch, but resist you must, or you will end up damaging your skin even further.
When you vigorously rub your skin with your nails or fingers, the friction can erode the skin barrier. Moreover, the germs and grime in your nails can get transferred to the damaged skin and invite infection.
If the itch becomes so overwhelming that it is hard to ignore and disrupts your sleep, ask your doctor to suggest some interventions to manage it safely.
3. Take care of your skin
Dry skin is more prone to damage, itching, and cracking, all of which pave the way for cellulitis. Thus, it is essential to keep your skin well hydrated both from within and outside.
Drink plenty of water throughout the day, and apply an appropriate lotion or ointment to keep your skin from cracking. You can ask your doctor/dermatologist for a suitable moisturizer that is specifically designed for your skin type and condition.
Also Read:
4. Keep your nails clean and properly filed
You could accidentally scratch yourself with a broken nail. When cutting your fingernails and toenails, take care not to injure the surrounding skin.
5. Avoid smoking and drinking
Unhealthy habits such as smoking and drinking alcohol can make you more prone to cellulitis and, therefore, should be avoided, especially in the wake of a skin injury.
6. Practice proper hand hygiene
Wash your hands frequently, especially after touching the infected area. Keeping your hands clean at all times, avoids contracting the infection in the first place.
Hand sanitization is essential for people who already have cellulitis too, as it keeps the infection from spreading to other parts of the body.
7. Observe good personal hygiene
The importance of personal hygiene cannot be stressed enough for the avoidance of skin infections.
This includes regular bathing, changing your underwear every day, wearing fresh socks every day, proper hand hygiene, changing out of damp clothes as soon as possible, keeping your genital area clean and dry, making sure that your feet are moisture-free before putting on socks, and changing your footwear regularly.  
8. Protect your skin
Covering your skin with protective gear can reduce the risk of injury and, thereby, infection. Always wear gloves when tending to your garden, handling abrasive equipment, or doing any such activity, which involves a high risk of cuts and scrapes.
Foot injuries are very common and often go unnoticed since you rarely observe your feet closely. So, always wear protective footwear whenever you venture outside, especially if you have diabetes. 
9. Lose weight
People who fall on the heavy side are more likely to contract cellulitis than people with a normal body mass index.
Moreover, cellulitis treatment does not work as effectively on obese and overweight individuals as it does on healthy-weight patients. In fact, overweight patients are often unresponsive to the preliminary treatment of cellulitis and need to be hospitalized. (5)(6)
10. Treat other medical conditions
Several medical conditions can predispose you to cellulitis, including eczema, athlete's foot, leg ulcers, and lymphedema. If you suffer from any such problems, it is important to manage them properly to reduce your risk of developing cellulitis.
11. Promptly treat infections on the skin's surface (superficial), such as athlete's foot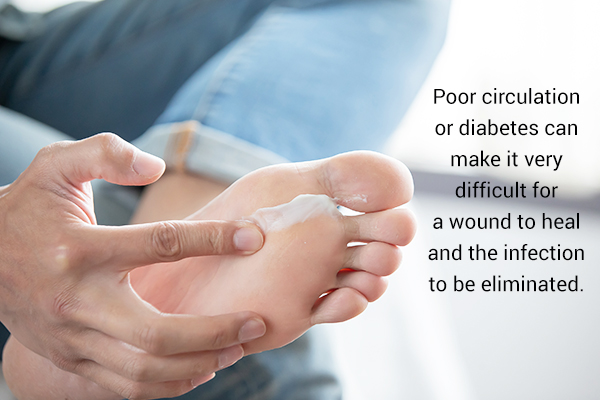 Poor circulation or diabetes can make it very difficult for a wound to heal and the infection to be eliminated. These preconditions can, therefore, make you increasingly vulnerable to cellulitis and its complications in the event of a skin injury.
If you have any of these problems, you must be extra careful to keep yourself safe from injuries. If you do get wounded, exercise diligent skin care to prevent superficial infections.
Patients who have diabetes and vascular diseases should be especially wary of foot injuries and infections, which can easily escalate into full-blown gangrene. They should make a habit of visually inspecting their feet for any sign of trauma or infection every day. Moreover, it is important to visit the podiatrist for a regular foot examination. (7)
Risk Factors for Cellulitis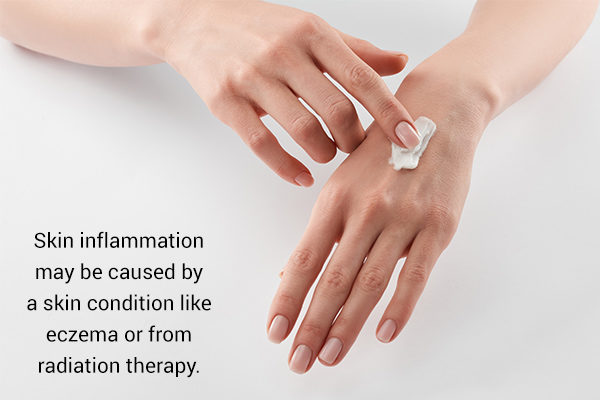 Certain factors can put you at an increased risk of cellulitis. People who figure in the high-risk category are expected to take extra care of a skin injury to avoid infection. Thus, it is important to know what can increase your likelihood of contracting cellulitis.
Here are some of the major risk factors for cellulitis:
Age: Cellulitis affects people of all ages, but it is particularly prevalent in middle-aged men and older adults.
Circulatory problem: Poor blood circulation in the body can hinder the flow of oxygen and nutrients to the extremities, particularly the feet. The lack of blood supply to the lowest point of your body can give rise to unpleasant symptoms such as blood clotting, chronic pain, and swelling, which often leads to cellulitis.
Recent surgery: People who have recently undergone surgery are more vulnerable to contracting cellulitis, either at the site of operation or in the area where the catheter is attached.
Intravenous drug use: Drug addicts regularly inject needles in their arm to administer the substance intravenously. The constant pricking can rupture your skin, and the use of contaminated syringes can give rise to an infection at the site of injection. In rare cases, intravenous drug abuse can result in a potentially fatal complication called necrotizing fasciitis. Thus, habitual injection of recreational drugs increases the risk of serious infections.
Impaired immune system: Certain medical conditions and medications can suppress the immune system, increasing the vulnerability to contracting infections and illnesses. People who have cancer, AIDS, diabetes, malnutrition, and various other genetic conditions tend to have a reduced ability to ward off infections. The same is the case with people who are taking immunosuppressive drugs such as corticosteroids. If the body is not strong enough to fight an infection, it will easily fall victim to it.
Chronic illnesses: People who suffer from long-term conditions such as diabetes are increasingly susceptible to infections like cellulitis. It usually begins with the appearance of sores on their feet and lower legs, which can later become infected.
Skin conditions or disorders: The skin condition may be minor, such as an insect bite, scrape, or cut, or serious, such as an animal bite or penetrating injury. Skin inflammation may be caused by a skin condition such as eczema or by radiation therapy. Other skin infections that are common in children include impetigo and ringworm (tinea).
Obesity: People who are overweight or obese are more likely to develop cellulitis and have recurrent episodes of the infection than those who have normal body weight.
Lymphedema: The lymphatic system filters out the toxins, waste, and other unwanted substances from the blood and transports disease-fighting white blood cells throughout the body.

It comprises a web of lymphatic vessels that carry a white fluid called lymph. If the lymph vessels or lymph nodes become damaged or overburdened, they are unable to drain the lymph fluid properly. As a result, the fluid starts collecting in the fatty tissues underneath the skin, causing swelling in the affected area, particularly in the limbs.

The swelling usually increases during the day and subsides at night, but can become permanent if the condition is not met with proper treatment.

The disrupted flow of lymph can undermine your body's ability to fight infections and make you more susceptible to bacterial skin infections such as cellulitis. 
History of cellulitis: People who have suffered from cellulitis in the past, especially of the lower leg, have a greater chance of getting it again (recurrent episodes).
Other conditions: People who have undergone radiation treatment of the limbs or those who suffer from chronic athlete's foot are at an increased risk of cellulitis.
What are the complications of cellulitis?
Cellulitis infection can spread deeper into the skin if not treated timely and properly. Worst-case scenario, the bacterial infection can enter the bloodstream and cause sepsis, which may lead to death.
Other complications associated with a mismanaged case of cellulitis include:
Lymphedema
Soft tissue abscess
Infectious myositis
Necrotizing fasciitis
Osteomyelitis
Thrombophlebitis (particularly in geriatric patients)
Cellulitis in Diabetics
Diabetes can greatly hinder wound healing and make you more vulnerable to soft tissue infections. In the presence of local trauma and microvascular disease, diabetic foot infections may vary from a simple case of cellulitis to full-blown gangrene.
A 2013 study found that people with diabetes are five times more likely to develop cellulitis-related complications as compared to those who do not have this chronic condition. (8)
Cellulitis Versus Abscess
The key differences between cellulitis and abscess include:
Cellulitis is an infection of the deep layers of the skin, whereas an abscess is a collection of pus in the tissues beneath the skin, which may develop as a result of this infection. Thus, cellulitis is the condition, and abscess may be a symptom of that condition.
The skin infection or inflammation caused by cellulitis can spread to large areas of the subcutaneous tissue, but an abscess is localized to one pocket.
Cellulitis is a bacterial infection mostly caused by a staph or strep bacteria, whereas an abscess can be caused by various types of skin infections.
You can get rid of an abscess by surgically opening the affected tissue to drain out the pus and other infected material, whereas cellulitis will require a combination of therapies to eliminate the infection.

These therapies include applying a warm, wet compress on the affected skin and taking antibiotics.
Cellulitis Versus Dermatitis
Cellulitis is a bacterial infection that occurs within the skin, usually at the site of an open injury.
Dermatitis refers to skin inflammation that can be triggered by a variety of factors, such as environmental irritants, fluid retention, and even stress, as it weakens your immune system.
The skin damage caused by cellulitis is mainly confined to the deep layers of the skin, namely, the dermis and the layer of subcutaneous tissue beneath it.
Dermatitis is known to trigger superficial irritation that can be felt in the epidermis or the topmost layer of the skin.
General Queries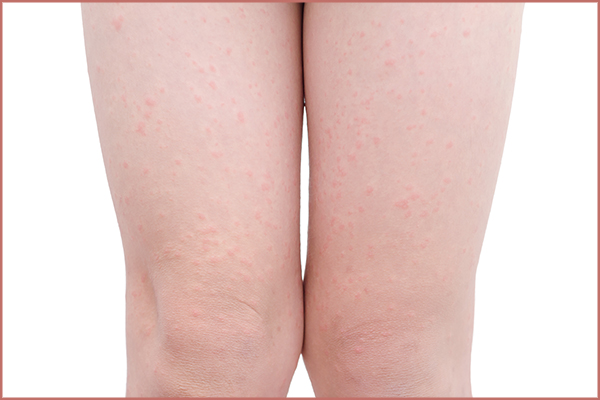 Is cellulitis contagious?
No, cellulitis does not spread from person to person through physical contact as the infection is embedded deep inside the skin. Impetigo, on the other hand, is a superficial skin infection that can be easily transmitted to others through a simple touch.
In the case of cellulitis, bacterial infection is limited to the deep layers of the skin that do not come in contact with other surfaces. Thus, the chance of transmission through contact is negligible.
What are the best creams for cellulitis?
Several creams, lotions, and ointments can help treat cellulitis topically. The most preferred topical options for treating cellulitis include:
Anti-itch creams
Antiseptic creams
OTC antibiotic ointments such as Neosporin or Polysporin
These products not only hydrate and sanitize the affected skin but also speed up wound healing and mitigate the skin discomfort.
However, since your skin is already damaged and irritated, it is important that you apply the cream gently rather than rubbing it, which will only aggravate your condition.
Can you swim with cellulitis?
If you have cellulitis, refrain from going into the pool until your injury has healed and is no longer open. Large or deep cuts can take some time before scabbing over and closing the skin wound.
Scab tissue formation at the wound site is a sign that your skin is healing. This hardened tissue develops over the wounded, exposed skin to protect it from further damage.
In the case of cellulitis, wait for the injured skin to scab over before immersing it in water. Venturing into a public pool before the injured skin has scabbed over will not only delay the skin regeneration process but will also contaminate the water for others.

Moreover, be extra careful to keep the infected wound away from other people if it is oozing pus.
Can you recover from cellulitis?
Yes, cellulitis is a curable condition that is best treated with doctor-prescribed antibiotics along with proper self-care and rest.
Early treatment not only promotes faster recovery but helps prevent the spread of infection and complications, some of which can be fatal.
When to See a Doctor
Cellulitis warrants urgent medical help if:
The infection occurs on your face.
A large area of the skin is injured.
The wound or puncture in the skin is very deep.
You get the infection after getting bitten by an animal or human.
The redness is spreading very quickly from the original site of injury.
The affected area becomes very painful, red, and warm to the touch – with or without fever and chills.
You are running a high temperature.
You have chronic preconditions such as diabetes.
You are immunocompromised, which means you have a condition such as cancer or HIV that has weakened or overburdened your body's inherent disease-fighting ability.
You are feeling very sick.
The infection continues to spread to other areas of the skin despite being on the prescribed antibiotic treatment.
You have been receiving antibiotics intravenously, and the injection site is showing signs of inflammation or infection.
Call your doctor immediately if you notice any of these warning signs of a serious infection. Prompt medical treatment will help you avoid any serious risks or complications later.
Final Word
Cellulitis can develop due to a skin injury or other conditions. Its treatment depends on its underlying cause and other relevant health factors.
It is important that you consult your doctor about the proper antibiotic treatment for cellulitis rather than self-medicate, and complete the prescribed course to make a full recovery. If you discontinue your medication as soon as you start feeling a little better, the infection will come back in full swing.
The goal is to eliminate every trace of bacteria through antibiotics. The preliminary relief that you notice when the antibiotics kick in does not mean that you are infection-free. It simply shows that the medicines are killing the bacteria, improving your symptoms.
You must not delay treatment as it will only worsen the condition and make you vulnerable to a range of serious complications. The infection can be particularly severe for people with a suppressed immune system, diabetes, poor blood flow, lymphedema, and excessive body weight.
Expert Answers (Q&A)
Answered by Dr. Anne Truitt, MD (Dermatologist)
What is cellulitis and how does it affect the skin?
Cellulitis is an infection of the deeper skin and subdermal tissue with symptoms of redness, swelling, warmth, pain, and in more severe cases blisters, pustules, and necrotic (dead) tissue.

In immunocompetent individuals, the most common bacteria involved in cellulitis are group A streptococci and Staphylococcus aureus. Bacteria most often gain entry through a break in the skin.

Potential risk factors for cellulitis in adults include lymphedema, alcoholism, diabetes mellitus, IV drug abuse, and peripheral vascular disease.

Children most often get cellulitis on the head and neck, whereas adults most commonly get it on the extremities.
Is cellulitis a fatal condition?
Most cases of cellulitis are uncomplicated, and they usually resolve with oral antibiotics. Accurate diagnosis and prompt treatment are key.

Cellulitis can be fatal if not treated appropriately and can spread to deeper tissues and eventually to the lymph system, bloodstream, and organs.

Necrotizing fasciitis is a serious skin and soft tissue infection extending to the fascia. It is a medical emergency requiring IV antibiotics and surgical intervention. (9)
Is it possible to cure cellulitis without any antibiotic treatment?
It is recommended to treat cellulitis with oral antibiotics. The recommendations are usually a penicillin derivative or doxycycline/clindamycin/trimethoprim-sulfamethoxazole for individuals allergic to penicillin or those thought to have a methicillin-resistant Staphylococcus aureus (MRSA) infection.

For more serious infections, IV antibiotics may be required. (9)

Keeping the wound site clean and covered, leg elevation, cool compresses, and NSAIDs can aid in the relief of symptoms and can increase healing time.
Is cellulitis contagious?
No. Cellulitis does not spread from person to person. It is often acquired through a breach in the skin barrier, such as injuries, diabetes, eczema, surgical procedures, IV drug use, and lymphedema.
Is a warm compress beneficial for cellulitis?
There is a discrepancy in the recommendations of a warm or cool compress. Warm compresses are thought to dilate blood vessels, allowing more inflammatory/healing cells to the site and assisting with the release of any small abscesses.

Cool compresses are thought to be more relieving as the infection site is often warm. If you are keeping the site clean and covered, taking antibiotics, and resting, your choice of warm versus cold should be what makes you feel better.
Is it safe to pop the blisters of cellulitis?
It is not recommended to pop the blisters of an infection. This can introduce another nidus of infection. Simply keep the site clean and covered. Chlorhexidine (Hibiclens) is an over-the-counter antiseptic and a good choice for cleaning wound sites.
Can cellulitis lead to permanent nerve damage?
Uncomplicated cases of cellulitis do not usually lead to nerve damage. Untreated infections that spread to deeper tissues or necrotizing fasciitis can cause permanent nerve damage due to the severity of the infection and increased likelihood of the need for surgical debridement (removal of dead tissue).
What precautions should be taken to ward off cellulitis?
Clean wound sites with antibacterial soap and continue daily wound care until healed. If you have diabetes, wear protective shoes and check your feet often for injuries. Diabetes can cause nerve damage, making injury detection more difficult.

Protect your skin by wearing gloves when gardening, pants when hiking, and padding for elbows/knees when skating. Seek medical attention if you experience signs of redness, swelling, drainage, or fever.
About Dr. Anne Truitt, MD: Dr. Truitt is a board-certified specialist in dermatology and has special expertise in the diagnosis and treatment of skin cancers to include melanoma, non-melanoma skin cancer, and other types of skin growths.