Arthritis is not a singular disease. It is, in fact, just a term that is given to joint pain or related disease.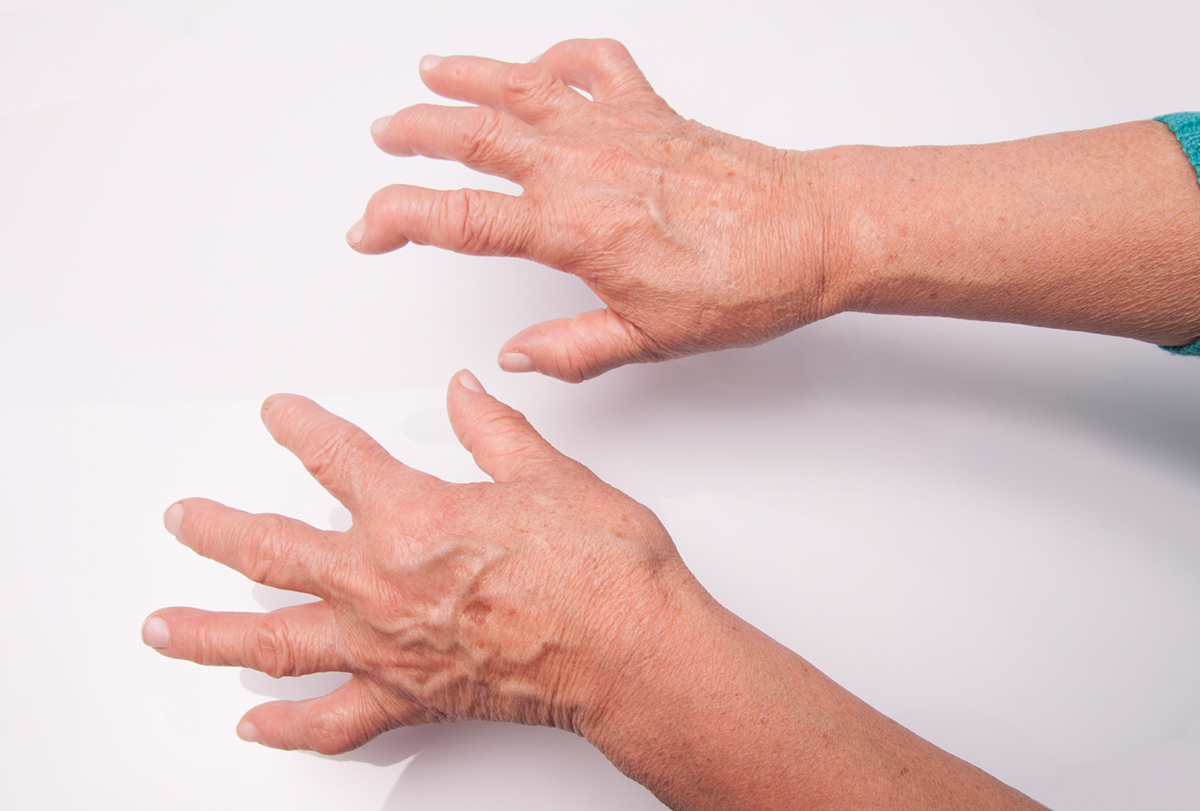 Researchers have come across over 100 different types of arthritis, which come with their unique symptoms and signs. (1)
Osteoarthritis (OA) can impact any joint in your body, but it usually affects certain areas more often than others.
According to experts, the hands are commonly affected, with three specific sites being most vulnerable: the end joint closest to the fingertip, the base of the thumb where the thumb and wrist meet, and the middle joint of a finger.
In addition to the hands, osteoarthritis can also impact the knees, hips, and spine, specifically the intervertebral disks and zygapophyseal joints in the cervical and lumbar vertebrae. (2)
Burden of Osteoarthritis
Osteoarthritis (OA) impacts approximately 3.3%–3.6% of people around the world, and it can cause moderate to severe disability in 43 million individuals.
This makes it the 11th-most debilitating disease globally. In the United States, it's estimated that 80% of people who are over 65 years old have evidence of osteoarthritis in X-rays, but only 60% of this group actually experience symptoms. (3)
What Is Osteoarthritis in the Hands?
Osteoarthritis in the hands refers to a condition where the cartilage in the joints of the hands wears down, causing pain, stiffness, and difficulty with movement.
It can be classified as either primary (unknown cause) or secondary (caused by known cause):
Primary osteoarthritis is often categorized by the site of involvement, such as the hands and feet, knees, or hips. If it affects multiple joints, it's called primary generalized OA. (3)
Secondary osteoarthritis is caused by conditions that change the environment of the cartilage, which include infections, significant injuries, inborn joint abnormalities, and genetic disorders such as accumulation of iron in the body known as hemochromatosis and excessive accumulation of copper in the body known as Wilson disease. (3)
Prevention of Hand Osteoarthritis
Not all types of arthritis are preventable, but you can do various things to reduce the risk of developing osteoarthritis.
1. Quit smoking
Smoking is a significant risk factor for developing osteoarthritis.
A study published in the Annals of Rheumatic Diseases revealed that individuals with OA who smoke tend to experience more severe pain and are twice as likely to suffer from significant cartilage loss compared to those who do not smoke.
This suggests that smoking cessation may play a crucial role in managing osteoarthritis and minimizing its impact on an individual's quality of life. (4)(5)
2. Maintain a healthy weight
Maintaining a healthy weight is crucial in preventing osteoarthritis from occurring. Obesity has been linked to an increased risk of developing OA in the joints. Overweight individuals who suffer from OA may experience more complications and require joint replacements more frequently. (6)
According to research, joint pain can be strongly associated with body weight. This is because being overweight by as low as 10 pounds increases the force on your knee by 30–60 pounds with every step you take.
Furthermore, studies have shown that obese women have an increased risk of osteoarthritis; they are four times more likely to have the risk of developing osteoarthritis. For overweight men, the risk is five times greater. (7)
Maintaining a healthy weight and working for even a small amount of weight loss reduce the risk of developing osteoarthritis. (7)
3. Ensure joint movement
Moving your joints through full motion by doing gentle stretching and joint movements can help maintain and improve the flexibility in your joints, which can help reduce your risk of developing OA. (8)
Lack of exercise is linked to painful and stiff joints. Not exercising weakens the muscles that support your bones, thereby putting more stress on your joints. (9)
Performing simple range-of-motion, strengthening, and aerobic exercises can help reduce the risk of osteoarthritis.
4. Do not lift heavy weights
Experts advise against carrying heavy bags or weights when you suffer from hand osteoarthritis. Carrying heavy weights can lead to musculoskeletal symptoms such as hand and/or wrist symptoms.
Therefore, preventive measures and appropriate load carriage are needed to protect those suffering from osteoarthritis and musculoskeletal problems.
5. Implement dietary changes
Research suggests that osteoarthritis is a metabolic disease where lipids contribute to cartilage degradation. Including long-chain omega-3 PUFA in your diet such as fish may help maintain cartilage health.
Studies have also shown a link between high serum cholesterol levels and OA, so adopting a cholesterol-lowering diet may also be beneficial.
Vitamins D and K play important roles in cartilage metabolism. Low levels of vitamin D have been linked to osteoarthritis progression and cartilage loss. Meanwhile, vitamin K deficiency has been also associated with OA and cartilage lesions. (10)
Thus, include food sources rich in vitamins D and K in your diet such as green leafy vegetables and dairy. (11)
Treating and Managing Hand Osteoarthritis
Here are some measures to manage osteoarthritis of the hands and its associated discomforts.
1. Do hand exercises
Various exercises can help improve osteoarthritis in the hands and its associated pain. You may find it beneficial to talk to a therapist or medical professional about your joint pain and the progression of your arthritis.
Hand exercises can be as simple as being able to make a fist:
Straighten your hand out as you stretch your fingers and thumb.
Curl your fingers closer to your palm, and put the thumb outside of the curled fingers. Do not put too much pressure or squeeze too hard.
Hold your fist for a few seconds and repeat the same multiple times. (12)
If making a fist is not helpful enough, you can try squeezing a stress ball to alleviate the symptoms of inflammation including pain.
If the pain gets worse and your hands start to get stiff, you may need to seek professional help.
2. Observe correct posture while working to avoid strain on hands
It's important to take good care of your hands if you have osteoarthritis. Fortunately, there are several simple changes you can make to your daily routine that can help manage the condition.
If you spend a lot of time working on a computer, ensure that you maintain good posture and rest your arms appropriately. Additionally, you may want to consider investing in an ergonomic keyboard to reduce any discomfort or strain on your hands.
These keyboards are designed to provide optimal support and comfort and can help prevent further damage to your hands caused by prolonged computer use.
By making these small changes to your routine, you can help manage your osteoarthritis symptoms and improve your overall quality of life. (13)
3. Take breaks in between work
If you often engage in activities that involve doing the same movement repeatedly, such as cutting vegetables, sewing, or writing for extended periods, you may find that your hands become tired or sore.
Certain occupations that require repetitive movements, high mechanical stress, or exposure to vibrations can contribute to the development or worsening of OA. These types of jobs require repeated and forceful movements of the hands and fingers, which can put significant strain on the joints over time.
This is because these activities can cause structural changes to the cartilage, bones, and other tissues in the joints, leading to injuries and pain.
It's important for individuals in these professions to take steps to protect their joint health, such as taking frequent breaks to stretch and rest their hands, using ergonomic tools and equipment, and seeking medical attention if they experience any symptoms of osteoarthritis. (14)
4. Do temperature therapy with a cold and hot pack
In osteoarthritis, the cartilage that protects the ends of the bones can break down, which can cause a lot of pain and swelling.
To help manage these symptoms, you can use thermotherapy, which involves applying heat or cold to the affected joints.
Heat can be especially helpful because it can improve circulation and relax muscles. Cold can also be useful because it can numb the pain and decrease swelling by constricting the blood vessels and blocking nerve impulses to the joint.
People can use various things to apply heat or cold to their joints, such as packs, towels, and wax. This type of therapy can be done at home or as part of a rehabilitation program. (15)
5. Take a paraffin bath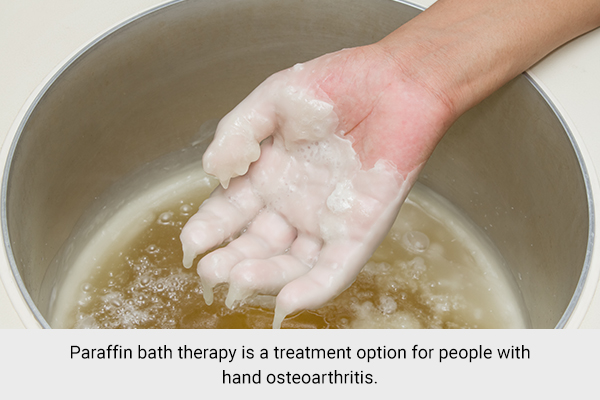 Paraffin bath therapy is a treatment option for people with hand osteoarthritis. The therapy involves dipping hands into a warm paraffin wax mixture.
In one study, the paraffin group experienced significant improvements in pain at rest and during daily activities, range of motion, and stiffness. Additionally, the group showed increased strength in hand grip and pinch compared to the control group.
The study suggests that paraffin bath therapy can be an effective short-term therapy option for reducing pain and tenderness while maintaining muscle strength in hand osteoarthritis. However, more research is needed to determine the long-term effectiveness of this treatment. (16)
Performing a paraffin bath for hand OA is a simple process, but it must be performed under expert supervision.
6. Invest in mid-finger-length hand gloves
Arthritis gloves are often recommended to people with undifferentiated inflammatory arthritis (UIA) or rheumatoid arthritis (RA) to help reduce hand pain and improve function.
A study found that the thermal qualities of these gloves were beneficial, as the warmth eased their joint pain. The gloves were helpful in reducing pain and improving function, but according to research, regular gloves can also do the same. (17)
The study suggested that ordinary mid-finger-length gloves that are widely accessible from high-street suppliers could deliver warmth and provide the perceived benefits to hand pain and function in the same way as medical arthritis gloves. (17)
Herbal Remedies for Hand Osteoarthritis
Given below are some herbal remedies you can try to deal with hand osteoarthritis.
1. Take frankincense
Frankincense (Boswellia) is an herb that has been used in traditional Ayurvedic medicine for centuries. It has anti-inflammatory properties that can help manage hand osteoarthritis. It also has analgesic and anti-arthritic effects.
Research has shown that Boswellia serrata is both safe and effective in managing osteoarthritis. A clinical trial found that patients who received oral Boswellia serrata extract for 8 weeks showed significant improvement in their OA scores compared to those who received a placebo.
Researchers have also found that oral supplementation of Boswellia extract for over 4 months significantly improved physical function by reducing pain and stiffness in OA patients without causing any serious side effects. (18)
2. Incorporate turmeric in your meals
Turmeric, which comes from the root of the Curcuma plant, has been used as a spice since time immemorial. Curcumin is a compound found in turmeric that has powerful anti-inflammatory and antioxidant effects.
Recent studies have investigated the effects of Curcuma and curcumin on OA. One study found that patients who were given Curcuma experienced significant improvement in pain and discomfort compared to those taking ibuprofen. (18)
3. Drink chamomile tea
Chamomile (Matricaria chamomilla) has been used for a long time to treat joint pain and inflammation. The dried flowers of the plant have been traditionally used to manage pain and inflammation.
Chamomile is considered safe by the FDA and is commonly consumed as an herbal tea. (18)
4. Try ashwagandha extract
Ashwagandha (Withania somnifera) is an herbal remedy commonly used in Ayurvedic medicine for its anti-inflammatory and pain-relieving effects.
Ashwagandha has also been shown to inhibit the activity of collagenase, an enzyme that breaks down collagen in the cartilage, thereby protecting and preserving cartilage.
In animal studies, ashwagandha has been found to decrease swelling, redness, and deformity associated with arthritis. (18)
To take ashwagandha at home for osteoarthritis:
Mix 1–2 teaspoons of ashwagandha powder or a recommended dose of ashwagandha extract with warm water or milk.
5. Drink ginger tea
Ginger (Zingiber officinale) has anti-inflammatory properties that can help manage the inflammatory symptoms associated with hand osteoarthritis. Ginger has been shown to reduce the production of various inflammatory factors.
Research has investigated the effects of ginger on pain relief in patients with osteoarthritis. Researchers have found that ginger extract or tablets can significantly reduce pain scores, lower morning stiffness, and improve patient satisfaction without causing any significant side effects. (18)
Treatment Modalities for Hand Osteoarthritis
The following medical interventions can help in the treatment of hand osteoarthritis.
1. Take OTC medication such as NSAIDs
NSAIDs are commonly used drugs for managing symptoms of pain and stiffness associated with rheumatic diseases such as OA and RA. These include ibuprofen, diclofenac, and aspirin, among others.
These drugs work by blocking the production of prostaglandins, which cause inflammation and pain.
Note: It is essential to consider other medical conditions and medications you're taking that may increase the risk of adverse effects from NSAIDs. Talk to your doctor, and prefer the lowest dose of a drug when necessary. (19)
2. Invest in splints
The use of splints has been studied as a potential method for managing hand osteoarthritis, specifically in the thumb joint.
One study showed that in the medium term (3–12 months), splinting caused a moderate to large reduction in pain and a small to moderate improvement in function. However, no significant effect was found in the short term or for different types of splints.
Overall, splinting appears to be a viable option for managing hand osteoarthritis, particularly in the medium term. It is important to consult with a healthcare provider to determine the appropriate type of splint and duration of use for individual cases. (20)
Symptoms of Hand Osteoarthritis
Hand osteoarthritis is a very common problem faced by a lot of people. It affects the wrists and finger joints. Symptoms can be chronic and you can experience them daily, or sometimes, they may simply flare up.
Symptoms of hand osteoarthritis include the signs of inflammation such as:
Pain
Swelling
Redness
Decreased motion
Stiffness
Experts explain that the onset of symptoms in hand osteoarthritis is typically gradual. The first and most common symptom is pain, which is often described as a deep ache.  (21)(22)
How Severe Is Your Osteoarthritis?
The American College of Physicians updated their guidelines for osteoporosis treatment, with T-scores indicating the severity of osteopenia, osteoporosis, and severe osteoporosis:
A T-score of -2.5 or less indicates osteoporosis.
A T-score between -2.5 and -1 indicates osteopenia.
A T-score of -2.5 or less and one or more fractures indicate severe osteoporosis.
French recommendations, on the other hand, suggest treatment only for T-scores less than or equal to -2 with fractures present, and the decision to prescribe for T-scores less than or equal to -2 and higher than -3 depends on the specialist.
Note: T-scores compare bone condition with that of an average young person with healthy bones. (23)
Most-Asked Questions About Hand Osteoarthritis
How do I know if the pain in my hand is due to osteoarthritis or rheumatoid arthritis?
In rheumatoid arthritis, you feel symptoms in the same spot on both sides of the body, often in the joints in the feet and hands.
In osteoarthritis, the pain begins in an isolated joint, often in the knee, fingers, hands, spine, and hips. While both sides may hurt, one side is more painful. (24)
What are the diagnostic criteria for hand osteoarthritis?
When diagnosing arthritis in the hand, doctors first look for common symptoms such as stiffness, swelling, and pain. However, to differentiate between different types of arthritis, additional criteria need to be considered.
For rheumatoid arthritis, doctors may use clinical criteria, as well as check for the presence of serum rheumatoid factor or anti-cyclic citrullinated peptide antibody through blood tests and X-rays. (25)
In the case of osteoarthritis, doctors differentiate it by looking at the specific joints involved, the absence of rheumatoid nodules, or systemic manifestations.
What are the risk factors of osteoarthritis?
Osteoarthritis risk factors include: (26)
Family history
Genetic makeup
Gender
Age
Injury to the joint
Obesity
Occupational reasons
Joint surgery
Do I need surgery for hand osteoarthritis?
When a patient's pain or lack of function becomes too severe, surgery may be necessary. Typically, the orthopedic doctor and patient will discuss the option of surgery to create a plan.
The main aim of surgery is to restore as much function as possible and eliminate or reduce pain to a tolerable level. Any experienced surgeon can assist in determining what type of surgery is the most suitable for the patient.
Final Word
Osteoarthritis is a very common condition, and it is not completely possible to prevent it from happening. The good news is that you can manage the symptoms and slow disease progression.
At-home remedies and lifestyle modifications help alleviate pain and provide relief from symptoms such as decreased joint function while also reducing your risk of developing osteoarthritis.
Was this article helpful?