Arthritis is the name of a group of conditions that causes joint pain, swelling, and inflammation. It includes more than 100 conditions that affect the joints and connective tissues around the joints. The most common form of arthritis is "osteoarthritis."
Arthritis occurs among all races, genders, and ages. It tends to affect women more than men and is the major cause of disability in the United States. According to estimates, nearly 59 million adults in the country suffer from arthritis!
Among children and young adults, "modifiable" risk factors such as obesity and smoking are usually the cause, whereas "nonmodifiable" causes include genetic factors, age, and sex. (1)
Osteoarthritis affects many Americans above the age of 45 years. There is no cure for it, but symptoms can be managed with certain remedies.
Home Remedies for Arthritis
Here are some common home remedies you can try to manage arthritis pain and inflammation.
1. Take transdermal magnesium
Magnesium is a useful element for the body. According to several studies, most Americans do not get enough magnesium in their diet.
Taking magnesium transdermally is an effective and easy way to increase your intake. This can be done with Epsom salt baths (Epsom salt is basically magnesium sulfate). (2)
You can also consume magnesium supplements and magnesium-rich foods such as cashews, almonds, peanuts, whole grains, and peanuts. The recommended daily dosage is 320 mg per day for women and 420 mg per day for men. (3)
2. Take fish oil supplements
Fish oil supplements can help reduce pain and stiffness caused by arthritis. They contain antioxidants and omega-3 fatty acids, which can be very beneficial for your health.
Make sure to consult your doctor before taking any supplements. Fish oil supplements can increase the chances of bleeding and bruising or interfere with certain medicines in some cases. (4)
3. Take turmeric
Turmeric contains an active compound known as curcumin, which is a potent anti-inflammatory and antioxidant agent.
It is widely used in Ayurveda as a treatment for pain and inflammation for different conditions including arthritis. It helps block proteins that trigger inflammatory reactions in the body.
You can add turmeric to your diet by adding a teaspoon of turmeric to a glass of milk and drinking it every morning. (5)
4. Sip ginger tea
Ginger has many anti-inflammatory properties. It is useful in getting rid of pain and swelling. You can consume ginger tea by grating a piece of ginger and boiling it in a glass of water. (6)
5. Make your own capsaicin cream
Capsaicin, the active ingredient in many chilies, is a well-known painkiller. It works by blocking the transmission of a compound responsible for pain. (7)
You can make your own capsaicin ointment by mixing some cayenne pepper powder with a few teaspoons of olive oil. Put it on a piece of gauze and rub it on the affected area twice a day.
6. Apply borage seed oil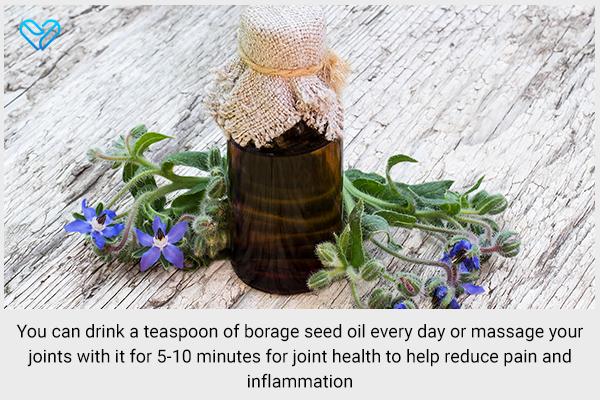 Borage seed oil is rich in two omega-3 fatty acids – gamma linoleic acid (GLA) and linoleic acid (LA). GLA is important for joint health and helps reduce pain and inflammation. (8)
You can drink a teaspoon of borage seed oil every day or massage your joints with it for 5–10 minutes.
7. Self-massage
Massaging the joints and the surrounding area gently can help provide relief from the symptoms of arthritis. (9) You can learn a few simple massages from a physical therapist for effective relief.
8. Exercise regularly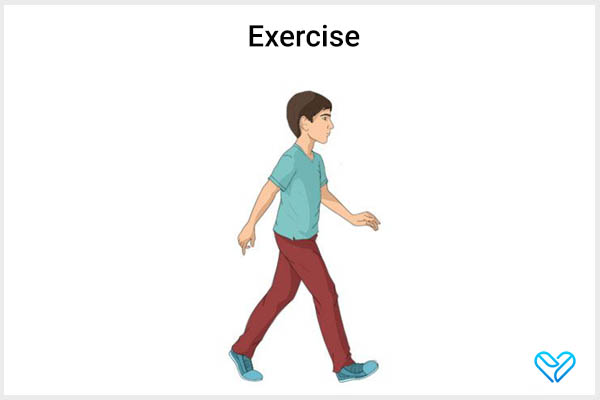 People with arthritis have difficulty in movement due to joint pain and swelling. It may seem contradictory to advise them to move more or work out, but exercise is actually one of the best ways to reduce pain.
Mild- to moderate-intensity exercises such as swimming and walking can help you stretch your muscles and joints. People with rheumatoid arthritis should be encouraged to perform light aerobic exercise and resistance training as well for pain relief. (10)
Diet and Supplements for Arthritis Relief
Here are a few dietary changes you may make to reduce pain and inflammation.
1. Follow an anti-inflammatory diet
Consuming foods that are anti-inflammatory can help reduce the pain and inflammation caused by arthritis. These include plant-based food products such as vegetables, legumes, nuts and seeds, herbs and spices, and low-carb foods. (11)
So, reduce foods that increase inflammation:
Avoid sugar. Try to cut out sugar as much as you can. It contributes to weight gain, inflammation, and other problems.
Add fruits, vegetables, and whole grains. Choose fresh, wholesome foods as often as possible to reduce the chances of inflammation.
Limit processed foods. Processed foods contain unhealthy amounts of sugar, sodium, and preservatives that are detrimental to your health.
Increase your intake of:
Dairy: Dairy is a rich source of calcium and vitamin D, both of which are essential for joint health.
Whole grains: Whole grains such as brown rice and whole wheat are packed with nutrients that can help boost immunity and decrease inflammation.
2. Take supplements
Your doctor may ask you to take some supplements such as:
Vitamin C: Vitamin C can help build connective tissues around the joints. It is also an immune booster that can help your body fight inflammation.
Bromelain: Bromelain, found in pineapples, is another immunity-boosting ingredient that can help decrease pain and inflammation.
Vitamin E: Vitamin E is a potent anti-inflammatory ingredient. It is filled with alpha tocopherols that act as antioxidants.
Glucosamine/chondroitin. Glucosamine and chondroitin are a combination supplement that helps decrease pain and inflammation in the body.
Final Word
Arthritis pain can be severe and affect your lifestyle. It is important to focus on the alleviation of symptoms as well as the treatment of underlying causes. Discuss the natural remedies given above with your doctor to find what works for you.
Was this article helpful?