People who are prone to weakness in the legs should adopt a multifaceted approach to build back their muscle strength.
It is, however, imperative that you first understand the source of your problem and then tackle it accordingly, which requires a medical consultation.
There are a number of things you can do at home to keep your condition from deteriorating further, along with a few complementary therapies to restore full function and strength to your leg muscles.
Home Treatment for Weak Legs
Here's what you can do at home to overcome leg weakness.
1. Get a leg massage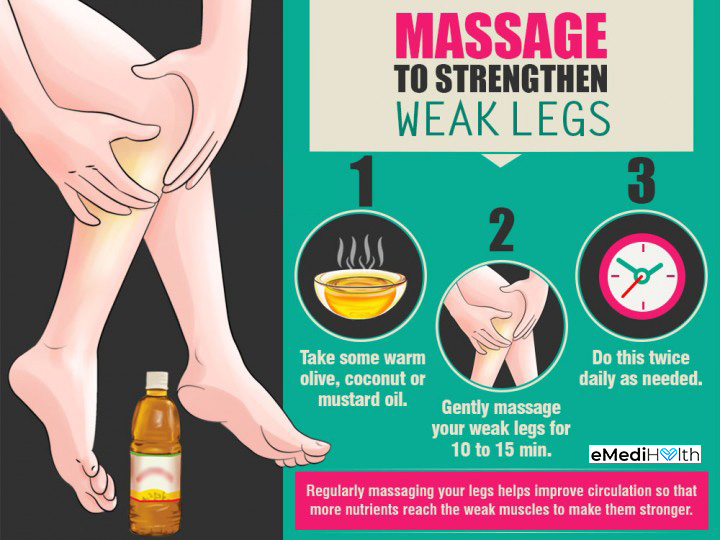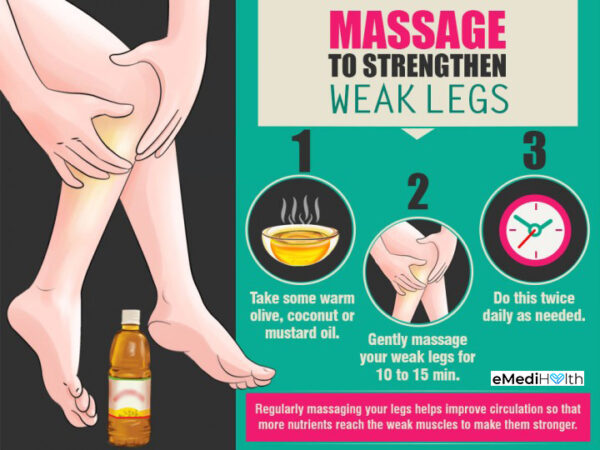 Massaging your legs, if done correctly, can help stimulate blood circulation at the affected site. The increase in blood flow can bring more nutrients to your worn-out leg muscles and may help repair the damage.
However, rubbing the affected area the wrong way can aggravate your discomfort, especially if the leg weakness stems from a relatively serious condition. Thus, it's best to consult your doctor and then seek the professional expertise of a masseuse or physical therapist to avoid any complications.
2. Train your leg muscles
It is important to keep your leg muscles flexed and active to keep them from atrophying further.
a. Exercises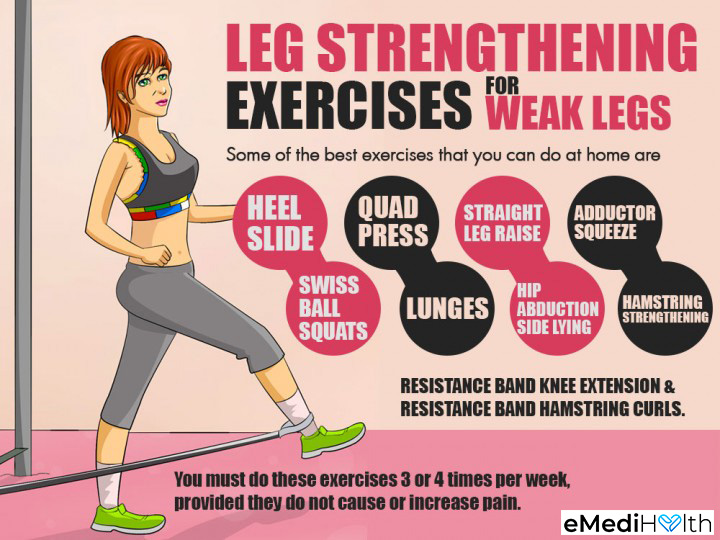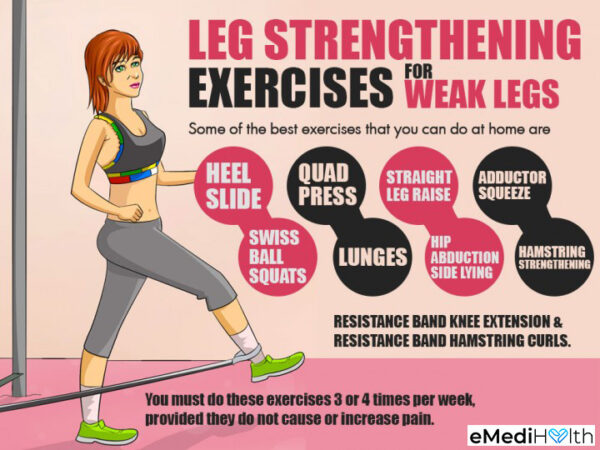 You can try a number of strength-building and resistance exercises that are designed to work out all the major leg muscles.
There are several ways to progressively challenge your legs musculature without putting additional load – you can perform more repetitions, perform more sets, or decrease the period of rest in between sets.
If your legs start to ache intolerably or feel like they will give way, you must cease the exercise at once. Pushing your already weakened legs beyond a point can be counterproductive, so exercise only to the extent that it is comfortably tolerable.
Squats and lunges are especially helpful in building the endurance of your leg muscles and can be safely performed at home without the need for expert supervision. (1)
b. Yoga
Yoga is another preferred form of exercise for people with frail lower limbs. (2)
c. Tai chi
Tai chi is yet another age-old exercise that may help enhance the muscular strength, core balance, posture, and flexibility of your entire body if practiced regularly.
The health promoting effect of tai chi has been compared to the more conventional exercise techniques such as resistance training and brisk walking. (3)(4)(5)
Note: Before signing up for any exercise routine, it is essential to run it by your doctor first. Your doctor will guide you to the safest and most effective form of exercise and may even refer you to an occupational therapist to help you out in this endeavor. Many specialized tools and devices can be used to support you through the workout.
3. Drink more fluids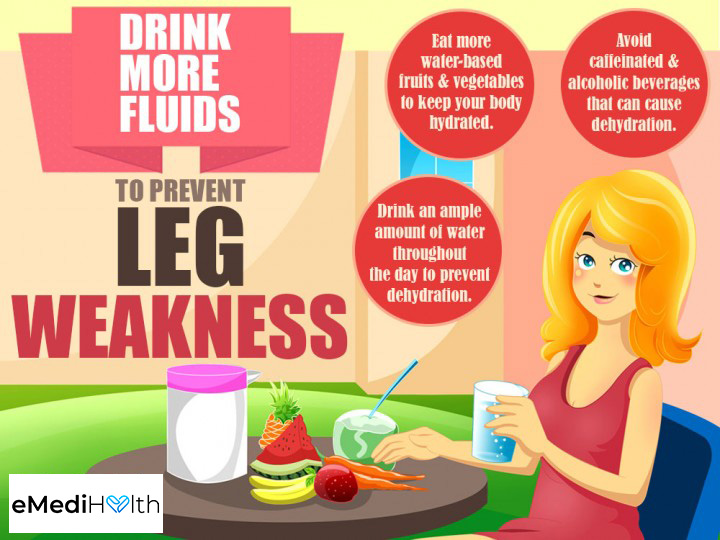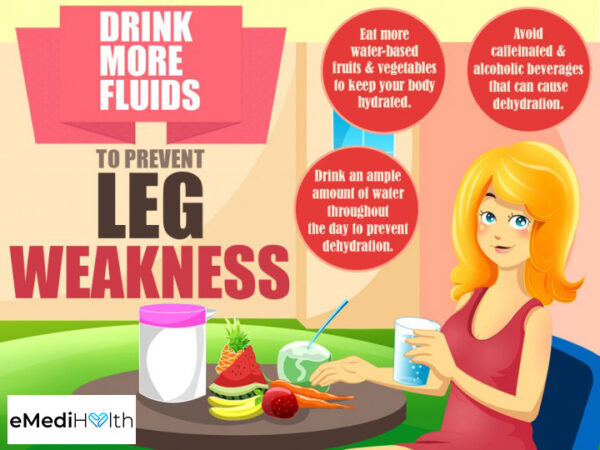 Weakening and cramping of the leg muscles can be a sign of dehydration.
As a rule of thumb, every healthy individual is advised to drink a minimum of 7–8 glasses of water a day, (6) which can be supplemented by other noncaffeinated beverages such as soups and juices as well as water-rich fruits and vegetables.
Distribute your fluid intake throughout the day by taking a refreshing drink with every meal, rather than drinking copious amounts in one go. Caffeinated and alcoholic beverages are not preferable alternatives to water, as they are known to induce a diuretic effect that can enhance dehydration instead of correcting it.
Note: If you have some form of kidney problems, it is essential that you consult your doctor before making any major changes to your fluid intake.
4. Try physical therapy
People who have undergone severe leg or spinal cord injury are often referred to a physiotherapist to regain full function of their affected limb. (7)
This kind of specialized physical therapy is also recommended for people who have had their leg operated and as a supportive care tool for people with the following conditions:
Arthritis
Back or shoulder pain
Cerebral palsy
Osteoporosis (weak bones)
Stroke
Although physical therapy exercises are usually modified to meet the needs of individual patients, they mainly address the following aims:
Activating underutilized muscles
Enhancing muscle strength and flexibility
Flexing stiff joints to improve their range of motion
5. Go for a walk regularly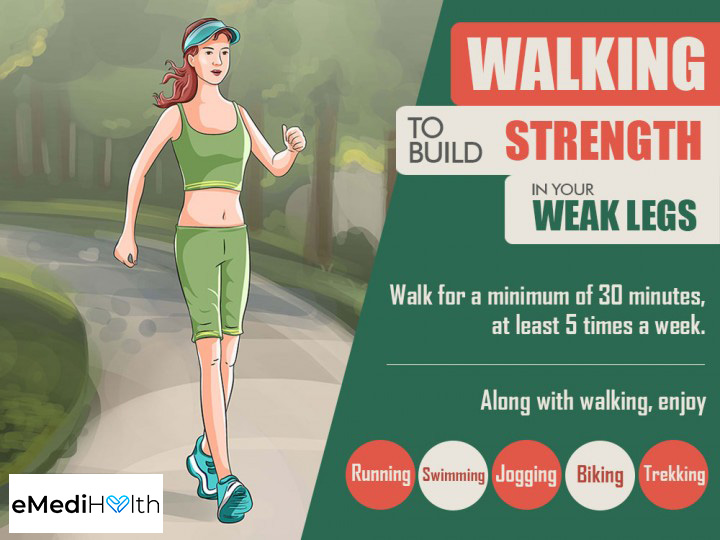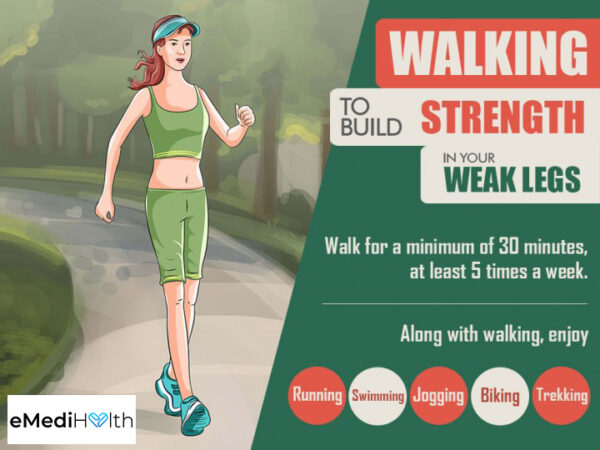 Walking qualifies as a low-intensity exercise that can be performed even when your legs feel kind of feeble. Keeping your leg muscles active is essential for building their strength and overall mass. This form of gentle exercise may also help flex and tone your leg muscles and increases blood flow to the damaged tissue.
Older individuals are especially recommended to push themselves out of their sedentary existence by going for short walks that should preferably involve a few turns to further improve their aerobic capacity. (8)
People with weakened legs should start with slow, low-intensity walks and gradually increase the duration, distance, and speed on the advice of their doctor.
6. Consume a healthy diet
The importance of a wholesome, well-balanced diet cannot be stressed enough for building strong, enduring muscles. Nutritional deficiencies can hamper your blood circulation and energy levels, which will only worsen muscle weakness in the legs.
Here are a few critical nutrients that you must get enough of:
a. Protein
Protein is extremely important for building and preserving your muscle mass and strength. Some of the best sources of protein include animal meat, fish, soy foods, eggs, chickpea, lentils, yogurt, and nuts.
b. Carbohydrate
It is best to derive your carb quota through grain-based sources.
c. Calcium
The calcium derived from food sources is more readily and effectively absorbed by the body as opposed to its supplement derivative. Also, the concentrated form of calcium derived from supplements can make you prone to kidney stones and heart ailments.
Some calcium-rich foods include dairy products, leafy green vegetables, summer squash, green beans, broccoli, certain kinds of fish, grains such as oatmeal, sea vegetables such as kelp, tofu, and calcium-fortified foods such as cereals and orange juice.
d. Magnesium
Much like calcium, it is better to meet your daily magnesium requirement through diet rather than supplements, especially if you are already on some medication that might interact negatively with high-dose magnesium.
People with celiac disease or type 2 diabetes are more likely to consume a magnesium-deficient diet and often require special assistance by a registered dietitian nutritionist (RDN) to overcome this shortage without aggravating their condition.
Some magnesium-rich foods include green leafy vegetables such as spinach, whole grains, pumpkin seeds, black beans, soy milk, and nuts such as cashew and almonds.
Note: Before making any drastic inclusions or exclusions to your diet, it is necessary that you run it by your doctor first. It is best to work with your doctor as well as a nutritionist to come up with a diet plan that is best suited for your particular condition. It is also important to rule out the risk of an allergic reaction or medicinal interaction before starting a new food plan.
Preventive Self-Care Measures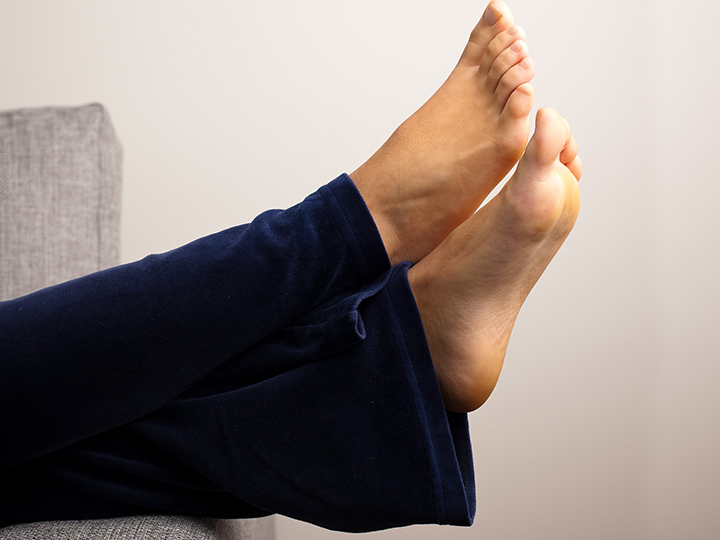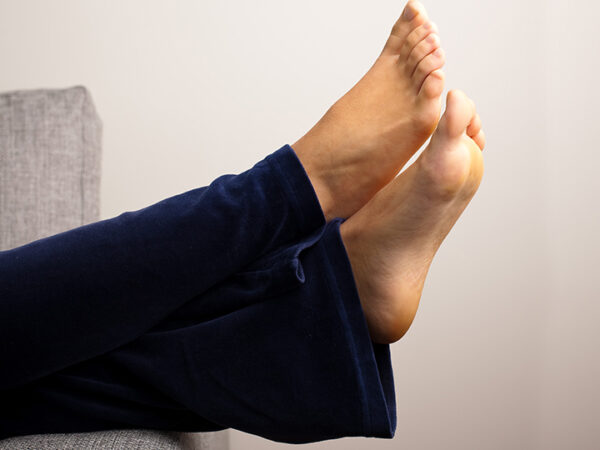 Here are a few general tips to keep your leg muscles from wearing out easily:
If you keep your legs in one position for an extended period, their muscles tend to become jammed or tense due to the prolonged stress. So, try not to stand or sit in a stationary position for too long. Make it a point to move or stretch out your legs from time to time to keep them relaxed and nimble.
Seriously consider quitting smoking in the interest of your overall health in general and to preserve your muscle strength in particular.
Limit your intake of greasy foods that are high in saturated fat.
Foods that are high in sodium can make you more prone to edema or water retention inside the body, which can compress your nerves and further deteriorate muscle function. Keep your salt consumption within the recommended limit to prevent such complications.
Elevate your legs to send more blood to the affected site, which can help reinvigorate the worn-out muscles.
Wear comfortable footwear that offers proper cushioning and support to your distressed feet. Flats and high heels are to be avoided.
Final Word
Occasional muscle burnout due to strenuous physical labor tends to resolve with a little rest, but the condition requires medical attention if it occurs frequently, occurs for prolonged periods where home care doesn't work and is severe enough to hamper your productivity and overall well-being.
Your doctor will conduct a thorough checkup to get to the root of the problem and then recommend the appropriate treatment, which may include both home-based and medicinal interventions.
For any of the above-listed therapies to yield the desired result without causing any additional muscle damage, you must do them under your doctor's advice. Besides, adopting a healthy lifestyle and dietary changes can go a long way in reducing the frequency and intensity of leg weakness.

Continue ReadingWhat Causes Weakness in Legs and When to See a Doctor
Was this article helpful?