There are several simple home remedies that can soothe the burning sensation in your feet.
However, if the condition is quite severe, persistent, or progressively worsening despite home treatment, seek immediate medical help to get to the root of the problem.
People with diabetes, renal disease, and other serious ailments that could trigger this symptom should not try any of these remedies without the approval of their doctor.
Here are a few natural ways to get rid of a burning sensation in the feet:
1. Try using cold therapy
Cold therapy involves applying cold temperature to the feet to desensitize the underlying nerves.
This numbing effect provides instant relief from the pain, tingling, and swelling associated with this condition, but it only lasts for a temporary period.
This remedy is particularly recommended for burning feet associated with erythromelalgia. (1)
How to use:
Prepare a foot soak by filling a tub or bucket with chilled or ice-cold water.
Immerse your feet in the water for only a few minutes, take a short break, and then dip them again for a few minutes.
Do this several times regularly.
Note: Prolonged exposure to extremely cold temperatures can further damage the skin, blood vessels, and nerves, so don't soak your feet in the chilled water for more than 15 minutes at a stretch.
2. Turmeric usage can aid in relief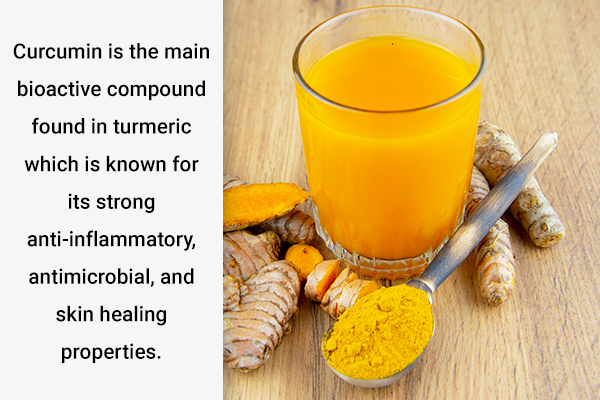 Curcumin is the main bioactive compound in turmeric that is known for its strong anti-inflammatory, antimicrobial, and skin-healing properties.
When used topically or taken orally, it may help improve blood circulation in the feet to bring down the swelling, redness, tingling, and pain associated with burning feet syndrome. (2) Plus, it can also help heal any underlying foot infection that may be causing your symptoms.
The curcumin found in turmeric contains almost a similar structure as the compound capsaicin, (3) which helps relieve a burning sensation. (4)
How to use:
Mix 1–2 teaspoons of turmeric in 8 ounces of water, and consume this tonic 1–2 times daily for several days until your condition improves.
Apply a paste of turmeric and coconut oil to your feet regularly.
3. Apply ginger to the affected area
Ginger is credited with anti-inflammatory, antioxidant, and antifungal effects (5) that may prove useful in reducing the burning sensation in your feet. It helps bring down the inflammation, repair the skin, and fight foot infections.
Moreover, this medicinal ingredient has also been used for treating a variety of ailments that are known to trigger a burning sensation in the feet, such as diabetes.  
How to use:
Mix 1 teaspoon of ginger juice in some olive oil.
Massage this solution into the affected area for 15–20 minutes.
Do this once a day regularly until the symptoms subside.
4. Use bottle gourd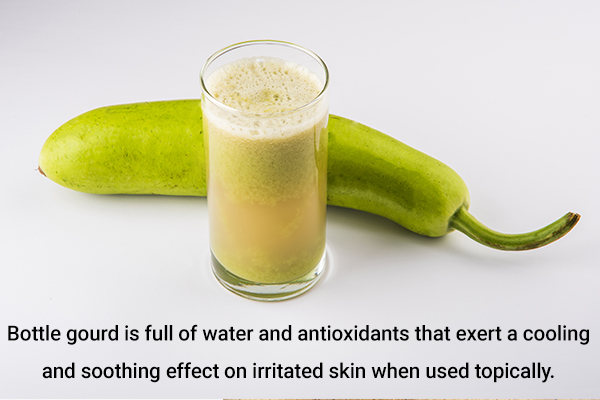 Bottle gourd is full of water and antioxidants that exert a cooling and soothing effect on irritated skin when used topically. The antioxidants help reduce the underlying inflammation, while the water hydrates the skin.
The pulp of this water-logged vegetable is often used to soothe a burning sensation in the feet, especially during the hot dry weather. (6)
How to use:
Grate the pulp of bottle gourd.
Mix it with just enough water to make a thick paste.
Apply the paste to your feet for several days.
5. A simple foot massage can work wonders
As discussed earlier, poor blood flow in the feet is often responsible for the burning sensation. When you massage your feet, the topical stimulation helps increase the blood circulation under the skin and thereby relieves the inflammatory symptoms associated with burning feet syndrome.
This intervention is particularly effective for people suffering from painful peripheral neuropathy that keeps them up at night.
A quick foot massage before bedtime can help soothe your feet so that you can fall asleep easily and stay asleep. (7)(8)
6. Take some nutritional supplements
Not getting enough B vitamins through your diet has been linked to burning pain in the feet.
Consider taking vitamin B supplements along with zinc to relieve the discomfort. (9) But you must stick to the recommended dosage to get the desired results with no side effects. 
7. Ayurvedic remedy
According to Ayurveda, poor circulation of blood in the lower limbs causes it to pool in the area. This blood stagnation creates heat, which manifests in the form of a burning sensation. (10)
Certain natural Ayurvedic ingredients can help stimulate blood circulation in the area to relieve your symptoms. These include Indian jujube, date, or plum leaves.
How to use:
Chop Indian jujube, date, or plum leaves.
Grind them with rice congee to make a smooth paste.
Massage your foot with this paste to manage the burning sensation.
Dietary Tips to Consider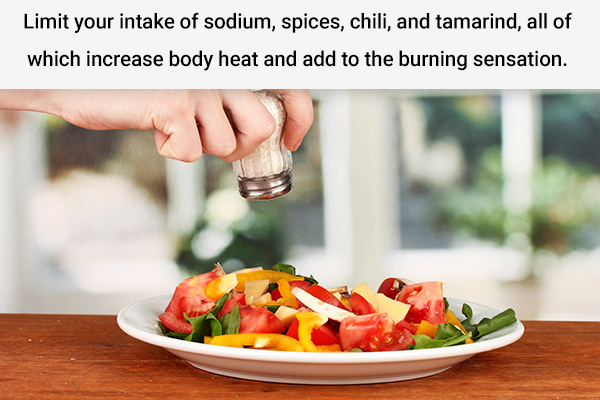 Here are a few dietary recommendations if you are suffering from burning feet syndrome: 
Limit your intake of sodium, spices, chili, and tamarind, all of which increase body heat and add to the burning sensation.
Rice mixed with fresh green gram and a dollop of ghee can help soothe the inflammation from within.
Rice with sugar and milk makes for another wholesome dish that can help treat your condition from within.
Watermelon juice, coconut water, buttermilk, and barley water are all refreshing drinks that cool down your body and may help relieve the burning sensation in the feet.
Ways to Prevent Burning Feet Syndrome
Here are some self-care measures that can help prevent some of the conditions responsible for burning feet syndrome:
People with metabolic disorders such as diabetes are extremely prone to peripheral neuropathy and foot infections, both of which can trigger a burning sensation in the feet. If you have such as condition, it is very important to check your feet regularly for blisters, cuts, fissures, or any sign of infection and injury. Plus, you must get your feet examined by a podiatrist from time to time. This will help you catch the infection or nerve damage in its early stages and seek prompt treatment, thereby avoiding serious complications.  
Wear shoes that properly accommodate the shape and size of your feet while also providing adequate ventilation and support. Avoid the ones that have high heels or a narrow toe box.
Keep your feet clean and dry at all times.
Change out of unclean and damp socks as soon as you can to avoid athlete's foot and other foot infections. If you have sweaty feet, change your socks every day.
Most-Asked Questions About Burning Feet Syndrome
Can I use apple cider vinegar to relieve the burning sensation in my feet?
Apple cider vinegar has anti-inflammatory and antimicrobial properties that may help relieve the burning sensation in your feet.
However, there isn't much research to back this claim. Moreover, some users have reported experiencing itching after using apple cider vinegar topically. Thus, it is usually not recommended by dermatologists, and if you do try it, do so with caution.
How to use:
Mix a few teaspoons of apple cider vinegar in 1 cup of water, and consume this drink daily.  
You can mix some apple cider vinegar in warm water and soak your feet in it for a few minutes.
Does an Epsom salt soak help in reducing the burning sensation in my feet?
Epsom salt contains ample amounts of magnesium, which is known to alleviate inflammation, and therefore may work as a remedy for burning feet.
However, Epsom salt is also extremely drying and can further exacerbate your condition. The skin of your feet is already very dry, and soaking it in an Epsom salt solution will make it drier.
Dry skin is less elastic and therefore tears easily. Cracks in the skin can pave the way for foot infections, which can be quite dangerous if you have advanced diabetes.
So, if the burning sensation in your feet is due to diabetes, this remedy can backfire. Keeping this in mind, it is recommended that you consult your doctor before trying this remedy.
Final Word
A burning sensation in the feet can simply be a result of poorly fitted footwear, overworked feet, and other benign causes, in which case you can use home remedies to feel better.
If the condition occurs without any such discernible cause, it is better to consult a doctor for a proper diagnosis and treatment. You may ask your doctor about using home remedies as adjunct measures along with the main treatment to get faster relief.
Some remedies may not be safe for every patient, which is why prior consultation is important. For these remedies to work, you will have to use them regularly.
Plus, eating a nutritious diet that is low on spices and salt and upping your intake of cooling foods and beverages may help accelerate recovery. Stress can also trigger burning feet syndrome, in which case you may benefit from yoga, meditation, and other relaxation therapies.

Continue ReadingBurning Sensation in Feet: Causes, Symptoms, Diagnosis, and Treatment
Was this article helpful?