How Can You Fast-Track Your Recovery After Foot Surgery?
Foot surgery recovery can be major or minor based on the problem being addressed, but it usually requires proper postoperative care. Given that your complete bodyweight rests on your feet, the risk of injury or damage after surgery is high.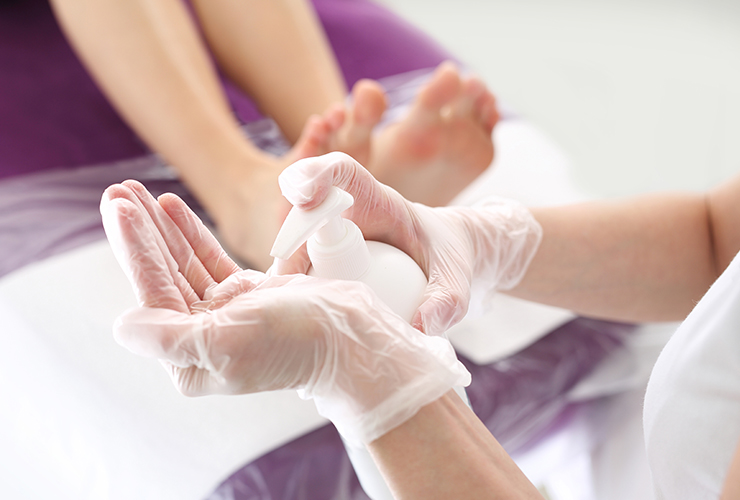 The time it takes for the operated foot to regain its complete strength, functionality, and range of motion depends upon the type of the operation and the overall health of the patient. It may take a few days to several weeks to recover from the foot surgery.
Once the foot surgery is done, your doctor will brief you about the basic dos and don'ts to promote faster healing. Although different doctors have different approaches to facilitate the foot surgery recovery process, one indispensable guideline is to protect your operated foot from any extra load and resting it at all times for the first few days after surgery for recovery.
This entails keeping your foot off the ground, which means no standing or walking until advised by the doctor. Sitting for prolonged periods with your foot hanging can make it swell and become painful. So it is recommended that you keep the operated foot in a raised position, preferably propped on a few pillows while sitting or even lying down. The elevation can help prevent inflammation and pain.
Lack of use makes your foot lose some of its functionality and mobility. Thus, the surgeon may refer you to a physiotherapist to gradually rehabilitate the foot through specially designed exercises and other physical activities.
When Is Foot Surgery Necessary?
Sometimes, foot pain is not alleviated by conservative treatment. The next step would be to consider foot surgery. When pain or deformity continues to worsen, surgery may be applicable to reduce pain and improve the function of your foot. (1)
What Conditions Require Foot Surgery?
The following conditions require foot surgery.
1. Bunions
The medical term for a bunion is hallux valgus. In this condition, the bones no longer align, and the angle of the bones gradually produces the "bump."
The big toe also shifts toward the second toe instead of pointing straight. This leaning of the toe can worsen over time. Symptoms may include pain, inflammation, redness, and numbness.
When conservative, non-surgical management, does not help the bunion pain, and when the pain of a bunion hinders day-to-day activities, surgical intervention may be beneficial.
Different types of surgical procedures are available to manage bunions. The surgical procedures remove the "bump" of bone, stabilize the construct of the foot to reduce pain, and correct the deformity of the foot. (2)
2. Hammertoes
A hammertoe is a bending deformity of the second, third, fourth, or fifth toe. In the beginning stages, hammertoes are flexible, and the symptoms can be treated conservatively. Hammertoes can progressively become more rigid or stiff. At this point, surgery may be beneficial. (3)
Common symptoms include pain when wearing shoes, thickened skin on top of the joints of the toe, irritation or redness of the toe when wearing shoes, inflammation, bending of the toe, and open wounds of the toe in serious cases.
Surgery may be needed when the hammertoe becomes stiff and painful, and when an open wound develops.
3. Metatarsal damage
Metatarsals are the long bones of the feet behind the toes. Surgery on the metatarsals is performed for a variety of reasons.
Metatarsal surgery is commonly performed to redistribute your weight on the ball of the foot when standing and walking. Metatarsal damage may develop due to several reasons such as, but not limited to, rheumatoid arthritis, fractures (4), and dislocated joints.
Symptoms may include an abnormal appearance of your foot structure, difficulty walking, pain, inflammation, and stiffness of the joints. When metatarsal pain and deformity are not relieved by conservative treatments, surgery may be required.
4. Ankle arthritis
Osteoarthritis is also referred to as degenerative arthritis. It is a condition where damage and loss of cartilage in one or more joints occur. (5) Cartilage is the connective tissue found at the end of the bones in the joints. Cartilage protects the bones during movement.
Symptoms of ankle osteoarthritis include pain, stiffness, swelling, difficulty walking, and decreased range of motion of the joint. Surgical treatment may be recommended when ankle osteoarthritis does not improve with conservative management.
5. Achilles tendon disorders
The Achilles tendon is a band of tissue that runs down the back of the lower leg and connects the calf muscle to the heel bone.
Two common Achilles tendon disorders are Achilles tendonitis and Achilles tendonosis. (6)
Achilles tendonitis is a brief time of inflammation of the Achilles's tendon. The condition may progress into Achilles tendonosis over time. Achilles tendonosis occurs when the tendon loses its organized structure, developing microscopic tears.
Symptoms include pain, aching, stiffness, soreness, and tenderness. Sometimes, nodules or lumps of scar tissue occur in the area where the tissue is injured.
6. Morton's neuroma
A Morton's neuroma is a thickening of nerve tissue due to compression or irritation of the nerve. It is often found to occur between the third and fourth toes.
Compression generates a benign enlargement of the nerve. Symptoms include tingling, burning, numbness to toes, pain, splaying of the toes, and a sensation that a pebble is within the ball of the foot. (7) Surgery may be an option in those who do not respond to non-surgical management.
7. Tibialis posterior dysfunction
Posterior tibial tendon dysfunction (PTTD) is also known as adult acquired flatfoot. The posterior tibial tendon is a tendon in the foot that supports the arch.
PTTD is caused by changes in the posterior tibial tendon, hindering its ability to support the arch. This results in flatfoot. Symptoms may include pain, swelling, an inward rolling of the ankle, and flattening of the arch. As the condition worsens, the symptoms will change. (8)
The foot and toes will start to turn outward, and the ankle will roll inward. As PTTD worsens, the arch flattens more. The pain then moves to the outside of the foot, beneath the ankle.
Surgical management may be beneficial when PTTD fails to improve with conservative remedies.
8. Plantar fasciitis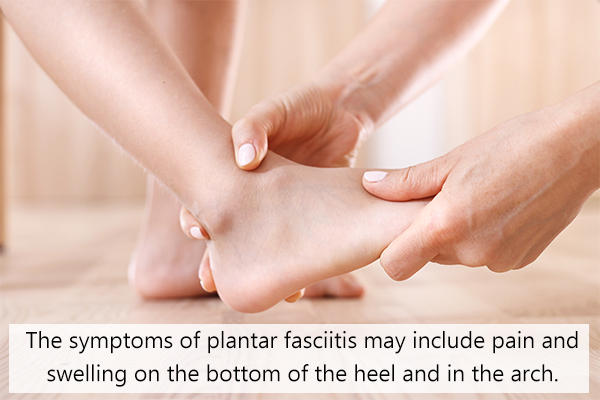 The plantar fascia is the band of tissue on the bottom of the foot that runs from the heel to the toes. The condition in which the plantar fascia is inflamed is known as plantar fasciitis.
The symptoms of plantar fasciitis may include pain and swelling on the bottom of the heel and in the arch. The pain may be described as worse when getting up in the morning or after sitting for long periods. After a few minutes of walking, the fascia stretches, and pain subsides.
Most people with plantar fasciitis respond to conservative treatment. (9) If the pain continues after several months of non-surgical management, surgery can be considered.
What Symptoms Can You Expect After Surgery?
Pain in the operated foot
Numbness or tingling (temporary)
Swelling
Throbbing when the leg is hanging down
Bruising
Do You Need to Take Blood-Thinning Medications After Surgery?
Surgery is a cause of blood clots in patients. However, blood clots in the leg are rare after foot and ankle surgery. Prevention of clots is key. Clots can be prevented with blood-thinning medications and/or exercise.
Depending on a patient's risk factors, an anticlotting blood-thinning medication to prevent a clot in the leg may be prescribed by your surgeon.
What Are the Advantages of Foot Surgery?
The prime advantage of foot surgery is pain relief. Other benefits of foot surgery include:
Ability to walk, stand, and run with no pain
Restoration of foot alignment and structure
Return to daily activities
Stability of the joints of your foot and ankle
Increased movement
Return to physical activities and sports
What Are the Disadvantages of Foot Surgery?
The incision may not heal
Scarring may occur
Infection may occur after surgery
The recovery time is long. It may take 6–10 weeks before you can walk comfortably. It may take 3 months before you can return to exercise
It may be necessary to wear a cast, brace, or walking boot/shoe without bearing weight to your foot for several weeks after surgery to allow the foot to heal
There is a risk of failure of the surgery and reoccurrence of the foot problem
Numbness may occur as a result of nerve damage
What Are the Alternative Options?
Pain relief may be accomplished through alternative options such as:
Wear shoes with a wide toe box and arch support.
Avoid high heels.
Use protective padding, toe spacers, or taping/splinting.
Wear shoe inserts or orthotics to control and stabilize the joints of the foot and ankle.
Use of braces to support function and provide stability.
Apply ice to reduce inflammation.
Use pain-relieving medications recommended by a doctor.
Ask your doctor about cortisone injections to the foot to reduce the pain and swelling.
Consider stem cell injection therapy to promote tissue repair.
Undergo physical therapy for strengthening and range of motion exercises.
How to Prepare for Foot Surgery?
Address all questions and concerns and discuss details with your surgeon before your procedure.
You may ask these questions to your doctor
Is preoperative testing necessary?
What can I expect on the day of surgery?
What can I expect days after my surgery?
What do I need to do the day before surgery?
What does the recovery period entail?
Will I need crutches, wheelchair, knee scooter, or cane?
How will the pain be controlled?
How long will it take before I can walk in regular shoes?
When can I start driving?
When will the stitches be removed?
Will I need physical therapy?
Prepare the home
Have things that you will need easy to reach, such as, but not limited to, a work table, phone, computer, television, books, food/beverage, and medications.
Stick to the first floor, avoid the stairs.
Invest in a shower stool for the bathroom.
Make your home easy to move around from room to room. Avoid clutter.
Plan how to get around
Ask your surgeon when you will be able to drive. Inquire about a temporary handicapped parking permit, if needed. Until you are cleared to drive, recruit the assistance of others to help you with transportation.
What Is the Proper Postoperative Care?
Start taking your prescribed pain medication before the anesthesia from surgery wears off. Take your pain medication and antibiotics (if any) as prescribed.
It is very important that you keep the bandages clean, dry, and intact. Protect your foot and bandages from getting wet. Do not remove the bandages unless advised by your surgeon.
Raise your leg slightly above the heart level to reduce the pain and swelling. Apply ice to the operated site to help reduce the swelling. Follow the postoperative instructions given by your surgeon. Also, follow the instructions given by your surgeon about the ability to walk on your foot.
How Can I Control the Pain After Surgery?
There are many options to control and manage pain after foot surgery. Opioids, nonsteroidal anti-inflammatory drugs (NSAIDs), and local anesthetics are options to help manage pain.
Medications help in expediting mobility, recovering your strength quickly, speeding up your recovery, and making you feel comfortable.
To reduce pain and swelling, raise your foot and ankle slightly above the heart level. Apply ice to the operated site to help reduce the swelling. Follow the postoperative instructions given by your surgeon to control pain.
Would Exercise Help After Surgery? What Exercises Are Recommended?
After surgery, an exercise conditioning program will help you return to daily activities. A well-planned conditioning regimen will also help you return to sports and other recreational physical activities. Talk to your surgeon or physical therapist about the exercises that will help you meet your goals.
Strengthening the muscles that support your lower extremity will help stabilize the joints of your foot and ankle. Maintaining the strength of these muscles can not only relieve pain to the foot and ankle but can also prevent future injury.
Stretching is a key component in restoring range of motion and preventing injury. Stretching can also aid in reducing muscle aches and support the flexibility of your muscles.
The following are the commonly recommended exercises:
Achilles stretch: Stand facing a wall with your healthy leg forward with a small bend at the knee. Your affected leg is straight and behind you, with the heel flat on the ground. Keep both heels flat on the ground and press your hips and whole body toward the wall.
Golf ball roll: While sitting with both feet on the floor, roll a golf ball under the arch of your affected foot.
Towel stretch: Sit on the floor with both legs straight out in front of you. Hook a towel around the ball of your affected foot and hold each end of the towel in each hand. Keep your affected leg and knee straight and pull the towel toward you.
Calf raises: Stand and hold onto a wall or chair for balance. Raise your unaffected foot off the floor. Your weight should be placed on your affected foot. Raise the heel of your affected foot as high as you can and then lower it.
Range of motion of the ankle: Use your foot to write each letter of the alphabet in the air with your toes.
Towel curls: Sit and place a small towel on the floor. Grab the towel with your toes and curl your toes.
How Can I Avoid Surgery?
Protect painful bunions and hammertoes with padding that can be purchased at your local pharmacy or online.
Wear shoe inserts or orthotics to assist in controlling and stabilizing the joints of the foot and ankle.
Maintain a healthy weight.
Take nonsteroidal anti-inflammatory medications to control the pain.
Purchase proper shoe gear that has a wide toe box and arch support.
Purchase shoes at a store that measures your foot so you can invest in the correct shoe size.
Perform stretching and strengthening exercises for the lower extremity to prevent injuries.
Wear supportive bracing when necessary.
What Are the Possible Complications After Foot Surgery?
Complications are possible following any surgery of the foot. Surgical management should only be considered if conservative management has not helped.
Complications include:
Severe swelling and pain in the calf
An enormous amount of blood on the bandage
Toes, foot, and/or ankle becoming cold
Toes, foot, and/or ankle turning pale
Blue or white toes
Redness
Foul smell from the surgical site
Fever
Severe pain that is not relieved with pain medication
Infection
A blood clot in the leg
Delayed healing
Scarring
Reoccurrence of the foot problem
How Soon Can You Walk After Surgery?
Your walking status after foot surgery depends on a variety of factors, such as the severity of your surgery, your age, and your general health.
Bone healing and swelling prevent an early return to normal shoe gear for most foot surgeries. Normal shoe gear may be attempted at least 8 weeks after surgery. Your ability to walk after surgery should be discussed with your surgeon.
When Will Your Surgeon See You After Surgery?
Your surgeon will instruct you about your first follow-up appointment, typically within 5–7 days after your surgery. Your surgeon will change your bandages and check your surgery site at that time.
Was this article helpful?