The foot bears various stresses throughout the day while supporting the weight of your whole body. When combined with various other factors, such stresses can easily cause problems in the foot, such as a sprain, inflammation, or injury.
These foot problems can cause pain and limit your movement and mobility. Foot pain refers to any kind of ache experienced in a part of the foot, including the arch, instep, toes, heel, or sole.
How Common Is Foot Pain?
Foot pain is a frequent problem, reported in approximately 17%–30% of the general population. (1) It affects 20%–37% of adults aged 45 or above. (2)
A study reported that around 29% of women and 19% of men experienced prevalent foot pain on most days of the month. (3)
Causes of Foot Pain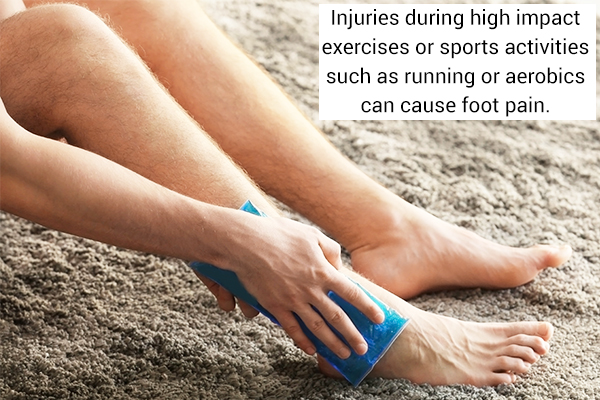 The most common factors that can induce foot pain include:
1. Improper footwear
Wearing shoes with improper fit or high heels can cause foot pain and foot disorders. (4)
2. Injury
Injuries during high-impact exercises or sports activities such as running or aerobics can cause foot pain. These include sprains, strains, fractures, and ligament, tendon, or muscle tears.
3. Osteoarthritis
It is caused by overuse of the cartilage that surrounds the joints. A commonly affected area is in the big toe. However, osteoarthritis may also cause pain in the ankle and midfoot.
4. Rheumatoid arthritis
It can lead to pain, stiffness, swelling, soreness, and warmth in the joints of the feet and ankles.
5. Diabetes mellitus
Diabetes can result in nerve damage, reduced blood flow, and ulcers or sores in the foot, which cause pain.
Besides these, various other specific conditions can cause foot pain, such as:
Achilles' tendinitis
Corns
Calluses
Warts
Ingrown toenails
Morton's neuroma
Hammertoes
Athlete's foot
Haglund's deformity
Peripheral arterial disease
Heel spurs
Tarsal tunnel syndrome
Sever's disease
Symptoms Associated With Foot Pain
Foot pain generally manifests as a sharp or dull ache. However, it may be associated with other signs and symptoms, such as:
| Symptoms of Foot Pain | |
| --- | --- |
| Cramps | Twitching |
| Muscle weakness | Inflammation (edema/swelling) |
| Burning or tingling sensation (paresthesia) | Difficulty in joint movement |
| Loss of sensation | Imbalance |
| Bruising or bleeding | Restless leg syndrome |
Standard Medical Treatment for Foot Pain
A variety of treatment options can help alleviate foot pain, depending upon the cause.
1. Medications
The commonly used medicines include:
Nonsteroidal anti-inflammatory drugs (NSAIDs), such as naproxen, ibuprofen, and aspirin, are usually given.
Topical analgesics include formulations containing topical anti-inflammatories, turpentine oil, eucalyptus oil, and menthol, to name a few.
Steroidal injections are used for alleviating pain and inflammation in joints and tendons.
Disease-modifying antirheumatic drugs (DMARDs) can help improve rheumatoid arthritis.
Note: NSAIDs should be taken only upon the recommendation of your doctor as they can increase the risk of gastrointestinal, kidney, and cardiovascular problems.
2. Surgery
If the foot pain is persistent and medications do not work, surgery may be performed to help restore function, correct deformities, and alleviate discomfort in appropriate cases. Such surgeries may include:
Hammertoe surgery
Heel spur surgery
Fusions
3. Supports/devices
In addition to medicines, you may take the help of orthotic devices to support your leg:
Night splints are used to hold the ankles and feet in a fixed position so that the plantar fascia and Achilles tendon remain slightly stretched. Night splints can help improve plantar fasciitis when used for 1–3 months. (5)
Orthoses are devices placed inside the shoe to help relieve pressure off the foot. A study found that the use of orthoses for 12 weeks with new shoes can help relieve foot pain and lower the thickness of plantar fascia when compared to new shoes alone. (6)
Alternative Therapies for Relieving Foot Pain
These specialized techniques can either be used as a complementary tool for enhancing the effectiveness of your primary treatment, or as a standalone treatment for pain relief. You must consult your doctor before deciding upon any particular treatment strategy.
1. Sign up for physiotherapy
Physiotherapy may be utilized as a primary treatment or along with one or more of the previously mentioned options depending on the cause and individual patient case.
2. Try acupuncture
This traditional Chinese medicine practice can help release endorphins, the body's natural painkillers, to alleviate foot pain.
That said, acupuncture is a fairly invasive technique that involves inserting needles into the pressure points of the body, and therefore should only be performed by a trained acupuncturist.
Diagnosing Foot Pain
The doctor may utilize the following procedures and tools to determine the cause of your foot pain:
1. Clinical history
The doctor will ask about the onset of pain, associated symptoms, triggers such as injury, medical history, family history, and medication use.
2. Physical exam
The doctor will check for signs of inflammation, injury, range of motion, and abnormalities in the foot structures. The doctor may also ask you to walk or balance to examine the effects of routine activities.
3. Imaging tests
These tests are done to examine the different foot structures for abnormalities or diseases. These include:
X-ray
CT scan
Magnetic resonance imaging (MRI)
Ultrasound
Bone scan
Risk Factors for Foot Pain
Many factors increase the chances of developing foot pain, including:
Older age
Prolonged standing
Overweight or obese status
Foot structural deformity
Overuse
Smoking
Trauma
Medications (some may be associated with tendon issues)
When to See a Doctor
Foot pain can resolve with proper rest and self-care. However, you must seek help from a medical professional if the pain is persistent, aggravating, limiting walking or activity, or extremely severe.
Additionally, consult your doctor if your foot pain is accompanied by:
Ulcers or signs of infection
Impaired blood flow
Changes in skin color (bluish, black, reddish, pale)
Changes in the foot structure
Persistent swelling
Numbness or tingling
Also, it is recommended to contact your doctor if you are taking immunosuppressive drugs or have a history of impaired skin healing.
Final Word
Foot pain can result from various reasons, ranging from sprains to infections. Foot pain can be easily treated with regular foot care, proper footwear, self-care measures, foot orthoses, and medications. Consult a doctor if the pain does not subside.

Continue ReadingHome Remedies to Relieve Foot Pain
Was this article helpful?