As you grow older, your body becomes weaker, less active, and more vulnerable to various health problems such as diabetes, cardiovascular ailments, and osteoporosis.
Aging is essentially a degenerative process that affects not just your internal organs but also the appearance of your skin in the form of wrinkles and fine lines.
While there is no stopping the passing of time, you can slow down the aging process by eating healthy, staying active, following proper skincare, and adopting favorable lifestyle choices.
What foods are considered best for anti-aging?
Many foods have been touted as beneficial for slowing the progression of age-related maladies.
Foods that have shown promising benefits because they support anti-inflammatory or detoxification pathways in the body include garlic, (1) blueberries, (2) avocados, (3) and cruciferous vegetables such as broccoli. (4)
It is worth pointing out that many of the associations that link individual foods to anti-aging benefits focus on the nutrient quality of those foods.
A diet rich in fruits, vegetables, fatty fish, and good-quality lean proteins consistent with the Mediterranean style of eating provides many benefits, including supporting bone and cardiovascular health, maintenance of lean body muscle mass, and slowing the advancement of cognitive impairment. (5)
What food items are best suited to reduce the appearance of fine lines?
The skin is naturally subject to changes caused by the progression of age. While some of these changes are inevitable, others are influenced by lifestyle and dietary choices.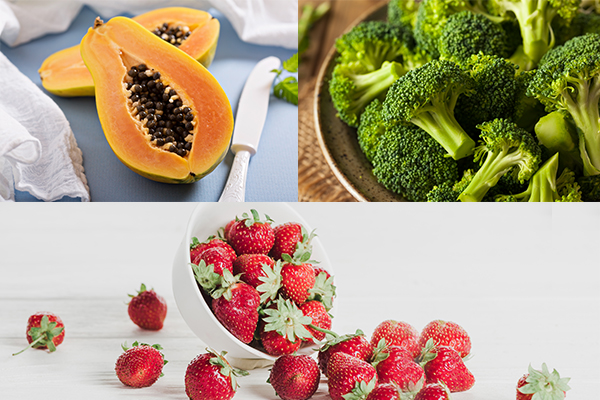 Definitive studies linking particular foods with improvements in skin health are lacking.
However, the best strategy would be to support the antioxidant pathway and meet all of the body's nutrient needs with a diet rich in fruits and vegetables, especially those high in vitamin C, such as papaya, broccoli, and strawberries. (6)  
Vitamin C is known to play a critical role in the formation of collagen, a major structural component of the skin.
Why is broccoli considered the king of anti-aging foods?
Broccoli hails from the Brassica group of vegetables, which also includes kale, cauliflower, cabbage, bok choy, and collard greens.
Broccoli, in particular, receives a lot of attention because it is a nutritional powerhouse. It is an excellent source of vitamins C, A, and E, which are potent antioxidants in the body. (7)
In addition, a serving of broccoli provides a variety of phytonutrients, which are plant-based compounds shown to exert effects on the detoxification pathway in the body as well as fight oxidative stress and help combat chronic inflammation. (8)
Should any particular diet be followed to keep looking younger?
Many of the associations that link certain foods to anti-aging benefits focus on the nutrient quality of those foods. There is no specific anti-aging diet.
Any diet pattern high in nutrient-dense foods, including fruits, vegetables, fatty fish, nuts, healthy fats such as olive oil, and good-quality lean proteins, consistent with the Mediterranean style of eating, can have many benefits associated with keeping the body younger.
These benefits include supporting bone and cardiovascular health, maintenance of lean body muscle mass, and slowing the advancement of cognitive impairment. (9)
What teas are helpful in fighting the process of aging?
Tea has been consumed by cultures around the world for thousands of years.
Observational studies on populations that traditionally drink tea daily found that frequent tea drinkers have lower rates of cancer and that regular tea consumption may protect heart health, help with blood sugar management, and contribute to weight loss when included as part of a healthy diet. (10)
Both green tea and black tea have shown promising potential. It is hypothesized that these benefits are due to the high levels of polyphenols in tea. Polyphenols are a type of antioxidant that can help repair cellular damage in the body. (11)(12)
What nutrients help in delaying the aging process?
A well-balanced diet that is nutritionally adequate and meets the daily requirements of all vitamins and minerals is best for countering the aging process. There is no need to focus too much on any specific nutrient.
All vitamins and minerals play a role in optimal bodily functioning and, when consumed in adequate amounts, would help to counteract the aging process to some degree.
Can lemon juice be applied to the face to fight skin aging?
You naturally produce less collagen as you grow older, leading to dry skin and wrinkles that commonly appear with advanced age. (6)
Citrus fruits such as lemon are loaded with the antioxidant vitamin C, which is known to stimulate the production of collagen.
While it may make intuitive sense to apply lemon juice directly to your face because of the link between vitamin C and collagen, this is not currently recommended. Given its highly acidic nature, lemon juice can irritate your skin (13) and increase your risk of sunburn after direct application.
Instead, you can add freshly squeezed lemon juice to water and drink it as part of your diet to combat premature aging and improve your skin quality from the inside out.
What foods should be avoided when striving to maintain young-looking skin?
Specific foods to avoid when striving to maintain healthy skin include those high in added sugar, both sugar added during processing such as desserts and other sweet treats and sugar added to foods such as coffee or other beverages.
Foods high in saturated fat should also be limited, such as full-fat dairy and high-fat meat, including beef and pork products like bacon or sausage (14) as these foods can exacerbate existing skin conditions.
Are essential oils helpful in fighting the signs of aging?
Essential oils have been used to improve the quality of life for thousands of years, dating back to ancient Egyptian and Roman civilizations.
A recently published review that investigated the effectiveness of essential oils and other plant compounds in treating age-related skin breakdown suggested that many plant compounds and plant extracts, including essential oils, can improve both skin firmness and elasticity. (15)
What nutritional supplements should be taken during old age?
Older adults, generally defined as aged 50 and over, may want to consider a nutritional supplement, especially if their diet is of poor overall quality.
Specific nutrients to focus on include calcium, which is vital for bone health, and vitamin D, as it is necessary to help with calcium absorption and plays a role in a variety of other bodily processes.
Vitamin B6 supplements may also be needed for red blood cell formation.
Vitamin B12 supplements will likely be necessary as your stomach naturally makes less stomach acid as you age, and vitamin B12 becomes harder to absorb from the diet alone.
What important lifestyle changes should be adopted to combat aging?
Maintaining a young look is something that takes focused effort and needs to be considered throughout the life cycle.
Specific changes that could be implemented would be to:
Quit smoking.
Reduce alcohol intake to one drink per day for women and two drinks for men.
Increase your intake of fresh fruits and vegetables, fatty fish, and lean proteins as they contain natural compounds that help combat cellular damage and build the very body systems you are trying to protect, especially the skin.
Cut down on inflammatory foods, especially those high in added sugar and saturated fats.
Try to meet daily and weekly exercise recommendations.
Wear sunscreen if you will be outside for extended periods.
Get plenty of good-quality sleep.
Actively work to reduce and manage sources of stress in your life.
Final Word
Aging is a natural part of life, and to some degree, you will all eventually succumb to age-related changes in your body. However, you have much control over the degree and speed at which these changes occur.
Both diet and lifestyle habits can either contribute to or help combat premature aging. The only way to keep yourself looking and feeling young is by taking an active interest in your health and happiness.