An allergic reaction occurs when the body encounters foreign particles that it perceives to be harmful. These foreign substances, known as allergens include pollen, pet dander, and compounds in drinks, foods, and personal hygiene products.
The treatment of an allergic reaction depends on the type of allergen. However, most minor cases can be treated using anti-itch products and antihistamines.
Home Remedies
Note: It is recommended to consult your doctor before using any remedy.
The following home remedies can help alleviate allergy symptoms.
1. Consume turmeric milk
Turmeric is one of the most effective natural remedies for allergies. It reduces inflammation by lowering histamine levels. (1)
How to use:
Mix ½ teaspoon of turmeric powder and a pinch of black pepper in 1 glass of milk and consume twice a day. You can also take turmeric capsules after consulting a doctor.
2. Drink nettle tea
Nettle tea is a natural antihistamine, which means it will block one of the hormones that trigger the allergic reaction. (2)
How to use:
Boil 1 teaspoon of nettle tea leaves in 1 cup of water, strain, and consume daily.
3. Have honey
A study showed that honey ingested at a high dose improves the overall and individual symptoms of allergies. (3)
How to use:
Mix 1 teaspoon of honey in 1 cup of water, coffee, or tea, and consume.
Caution: Avoid giving honey to infants to prevent the risk of botulism. Some people who have a severe allergy to pollen can experience a serious allergic reaction known as anaphylaxis after eating honey. It is highly recommended to consult your doctor before consuming honey.
4. Practice nasal irrigation
Nasal saline irrigation helps rinse the nasal cavity to dilute the mucus, enabling easy removal. It also helps to get rid of the allergens in the nasal passage. (4)
How to use:
Use sprays, squirt bottles, or a neti pot to perform nasal irrigation. Consult your doctor for the proper directions.
5. Drink apple cider vinegar
Apple cider vinegar (ACV) is an effective remedy for dust allergies because it is not only an expectorant in nature but also loaded with anti-inflammatory properties. (5)
How to use:
Mix 2–3 tablespoons of ACV in 1 glass of warm water and sip the solution. You can safely drink this solution two to three times a day.
6. Try butterbur
The root or leaf extracts of butterbur may help relieve allergic rhinitis (hay fever).
How to use:
Commercial butterbur extracts, made from the roots or leaves, are available. They are taken orally in capsule or tablet form. It is generally taken two to four times a day for a week or longer, especially during allergy season. (6)
Note: Make sure to dilute the herb to prevent any liver or kidney damage. Avoid giving it to children and pregnant or breastfeeding women.
7. Take quercetin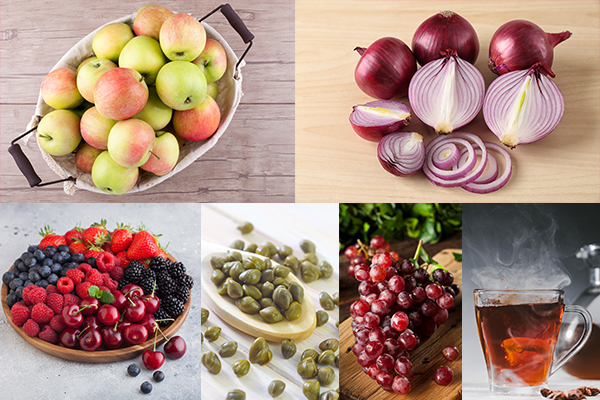 Quercetin helps inhibit histamine release, which is responsible for allergic reactions. (7)
How to use:
Consume foods such as apples, red onions, berries, capers, red grapes, and black tea. You can also take supplements upon consulting your doctor.
Note: Avoid giving quercetin to people with kidney disease and pregnant or breastfeeding women.
8. Consume bromelain-containing foods
Bromelain is a natural healer that helps subside inflammation and swelling and thus improves breathing.
How to use:
Add papaya and pineapple in your diet for their bromelain content.
Most-Asked Questions About Allergies
How common are skin allergies?
Skin allergies are extremely common and can manifest in different forms, which include skin swelling, hives, rashes, and eczema. In 2015, nearly 8.8 million children were diagnosed with some form of skin allergy, which points to the overwhelming prevalence of this condition. (8)
Are allergies common in pregnancy?
Pregnancy renders a woman increasingly susceptible to seasonal and food allergies, and about 25% of pregnant women reportedly experience a flare-up of their symptoms during this vulnerable phase.
The expecting mother has to be extra careful about how she addresses this problem, as delayed or incorrect treatment can jeopardize not just her own health but also that of the baby.
Is it a cold or an allergy?
The symptoms of a cold and an allergic reaction can be quite similar, but these two conditions are entirely different.
While a cold is a respiratory infection caused by a virus, an allergy is an overactive response of the immune system to an otherwise harmless substance that is wrongly identified as a germ, pathogen, or some form of a foreign threat.
Unlike the common cold, which can spread easily through direct or indirect contact with the infected person, allergies are completely non-contagious.
Final Word
Most allergic reactions can be treated with over-the-counter medications and home remedies. However, for severe allergic reactions, consult a doctor immediately.

Continue ReadingAllergies: Causes, Symptoms, and Treatment
Was this article helpful?